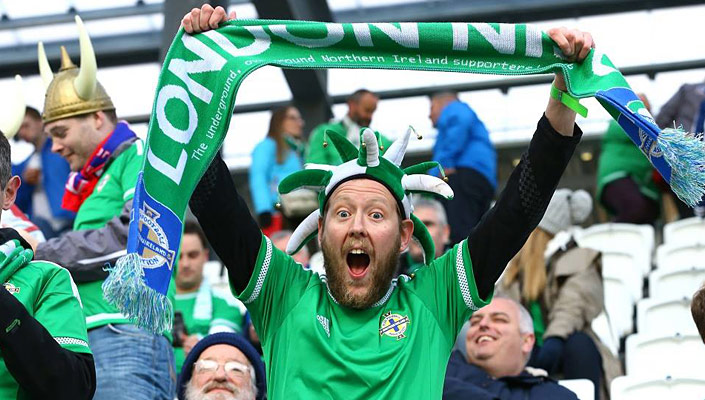 Northern Ireland has picked up a major award for embracing UEFA's Fair Play ethos.
Finland, Faroe Islands and Northern Ireland were the winners of the three categories in the final rankings of the 2017-18 Fair Play competition run by European football's governing body.
Finland took the award for overall fair play with 8.596 points, while Northern Ireland picked up the accolade for the best improvement in overall fair play score from one season to the next, progressing from 7.976 points in 2016-17 to 8.489 points in 2017-18 -  a difference of 0.513.
And the improvement also helped lift Northern Ireland to fourth place in the overall Fair Play rankings out of 44 countries.
Northern Ireland's position on the UEFA list was based on 39 games played by our men's and women's international teams as well as men's and women's club sides and futsal clubs in UEFA competitions.
The award for behaviour of spectators was won by the Faroe Islands. Finland finished first in the spectator behaviour rankings with 8.954 points but as they had won the award for the best overall fair play score the spectator award instead went to the Faroe Islands, who finished second in the rankings with 8.818 points. Northern Ireland's spectators were ranked at 16thout of 44 teams.
The winning associations in each of the three categories will receive €50,000 apiece to donate to amateur or professional clubs of their choice for fair play or respect-themed projects.
The 2017-18 UEFA Fair Play rankings are based on fair play results obtained from all UEFA competition matches played at both club and national team level between 1 July 2017 and 30 June 2018. 
The rankings are established through UEFA Fair Play reports which are completed after each match by UEFA match delegates in consultation with referees and referee observers. Criteria include the number of red and yellow cards, respect for opponents, respect for referee teams, behaviour of team officials and behaviour of spectators. 
Only associations that have played a minimum of 36 matches were taken into account in the final rankings. The cut-off point is obtained by dividing the total number of UEFA matches by the number of participating UEFA member associations.