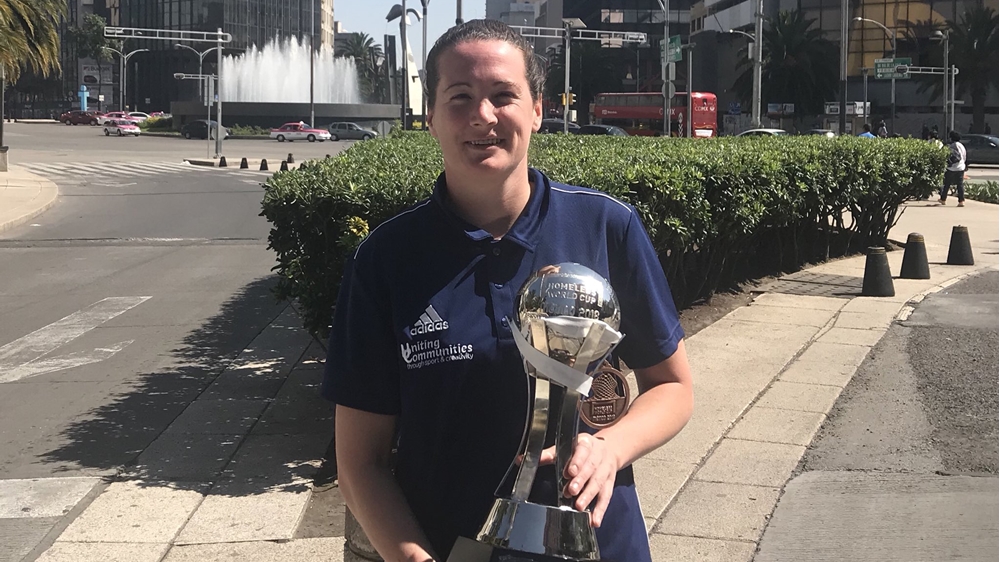 They may not have won a trophy as a group but the Northern Ireland women's squad did manage to bring home some silverware from this year's Homeless World Cup.
The women's team came 14th overall at the tournament in Mexico and were unlucky not to finish higher up the rankings.
In their 13 games Northern Ireland scored 61 goals and striker Kiera Moss (pictured, above) was responsible for more than half of them.
Indeed her prowess in front of the nets - she bagged 34 goals in total – led to her being named player of the tournament.
And the plaudits did not end there. Irish FA Foundation coaches Clare Carson and Claire Rea, who were in charge of the women's team in Mexico, picked up the Best Female Coaches Award.
Both the men's and women's homeless teams are run by Street Soccer NI, a charity that uses football to bring positive change to people's lives. They work with disadvantaged groups including the homeless, long term unemployed, refugees, people with addictions, mental health issues, ex prisoners and more.
Their main funding comes from the Department For Communities, Housing Executive, East Belfast Mission and Irish Football Association.
Michael Boyd, Director of Football Development at the Irish FA Foundation, said he was proud of Kiera and the two coaches. 
"Kiera's award was well deserved. She put in some great performances and scored in every game she played," he pointed out.
"I am also extremely proud of Clare and Claire. They put in a lot of hard work both before and during the tournament."
He added that both the men's team (who finished 29th overall in their competition) and the women's team had been fine ambassadors for Northern Ireland in Mexico.