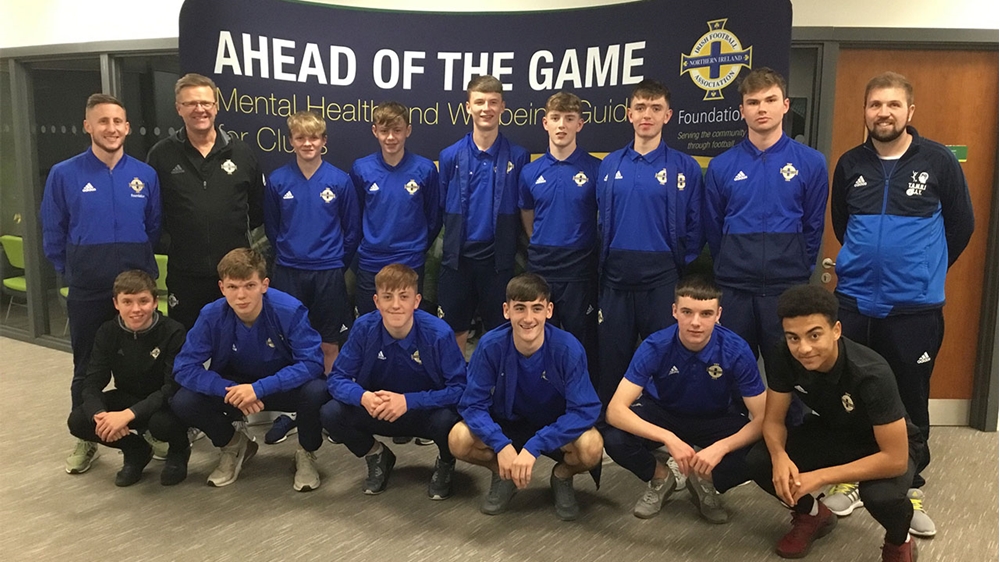 Players from the Irish Football Association's elite player development programme have been encouraged to be more aware of mental health issues.
The Irish FA Foundation delivered a workshop to players aged 14 and 15 from JD Club NI at the National Football Stadium at Windsor Park.
The workshop was staged by the foundation as part of a drive to promote positive mental health through its UEFA-supported Ahead Of The Game programme.
A mixture of players from the Club NI U15 and U16 squads took part in a variety of interactive tasks to improve awareness of mental health with the aim of helping them to recognise warning signs and providing them with more information about where to signpost those who may need help.
Joe Donnelly from TAMHI (Tackling Awareness Of Mental Health Issues) helped to deliver the mental health awareness workshop.
He said afterwards: "It was great to get an insight into the emotional wellbeing of young people who have made it to such a high level in football. I know that while delivering the workshop I learnt a lot also which will support me in future delivery."
Andrea Thornbury from Inspire Wellbeing said her organisation was delighted to support the Ahead Of The Game programme and to be given an opportunity to promote Northern Ireland's mental health anti-stigma campaign Change Your Mind.
The event formed part of life skills sessions which are regularly held for JD Club NI players.
"This was a really good session which was pitched at just the right level for this age group. The players engaged fully and participated in everything that was asked of them. All the boys said they enjoyed the session and had learned quite a bit from it," explained Jim Grattan, Elite Performance Player Welfare Manager with the Irish FA.
For more information on the Irish FA Foundation's mental health and wellbeing programme for clubs, contact Gavin Nelson, the foundation's Club and Community Development Officer, at gavin.nelson@irishfa.com