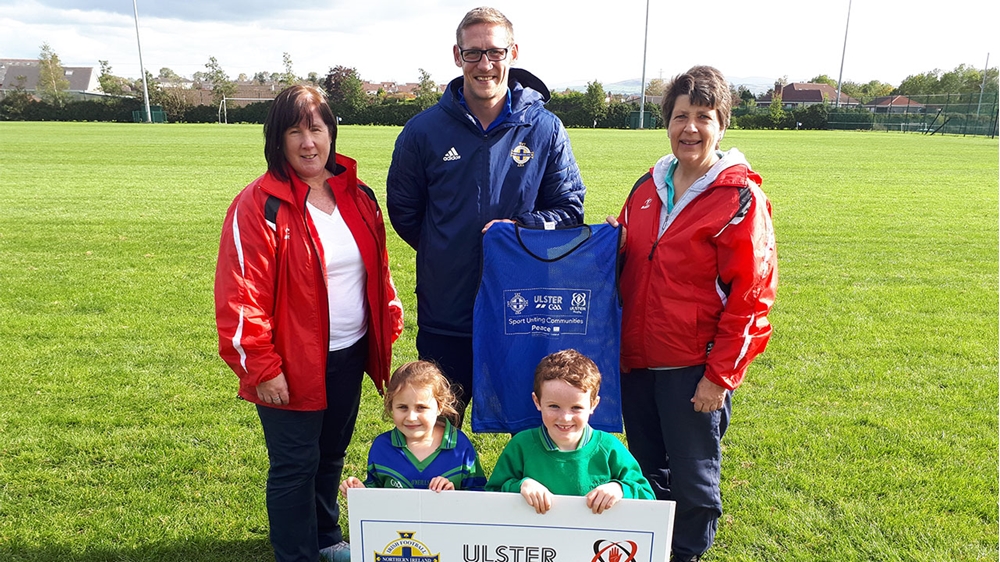 Sport Uniting Communities - a programme which aims to promote peace and reconciliation - has delivered a Volunteer Development Programme to 91 people representing 45 clubs from the Irish Football Association, Ulster GAA and Ulster Rugby. 
The objective of the Volunteer Development Programme, which is EU Peace IV funded, is to build capacity within clubs to help recruit, develop and retain volunteers across the three sports.
In year one, the Sport Uniting Communities team delivered five training days in Belfast, Banbridge, Cookstown, Derry-Londonderry and Enniskillen, focusing on defining roles and responsibilities within clubs, volunteer recruitment and retention (focus on marginalised groups), succession planning for volunteers, becoming an inclusive club, volunteer leadership and mentoring.
Interactive workshops encouraged clubs to develop partnerships across the sports and group discussions allowed for each topic to be examined from a club perspective, giving the opportunity for shared learning. 
Participants were also given an insight into how small changes to the everyday running of their club could lead to large gains on and off the field of play. 
The clubs exchanged contact information and are keen to hold shared events across the community. The emphasis on networking and the opportunity for shared learning was well received. 
"Working with others sports, you normally have a bit of fear that you may lose players. In fact, this was the opposite as I picked up fresh ideas and contacts," said one participant. 
As part of the scheme the clubs will receive a Game of Three Halves equipment pack and visit the three National Stadiums. 
Recruitment for year two begins in January and the programme will start with an initial training day for volunteers. Each club will commit two volunteers to attend the training day, with one being aged 16 – 24 years old. Places are offered on a first come, first serve basis. Secure your place by contacting the officer from your sport in your area. For staff details click here.
Participating clubs: Strathroy Harps FC, Tummery FC, County Fermanagh Super Cup, Kickstart FC, Institute FC, 22nd Ladies FC, PSNI Ladies FC, Crusaders FC, Glentoran FC, SOPFC, Tullyvallen FC, Lurgan Celtic FC, Mid Ulster Ladies FC, Dromara Village, Dromore Amatuers, Banbridge Rangers, Cooke RFC, Malone RFC, Quins RFC, Portadown RFC, Ballinahinch RFC, Queens RFC, Dungannon RFC, Rainey RFC, Monaghan RFC, Coleraine RFC, COD RFC, Letterkenny RFC, Omagh RFC, Enniskillen RFC, Clougher Valley RFC, Burt GAC, Doire Trasna GAC, Faughanvale GAC, Edeerney GAC, Tempo GAC, Maguiresbridge GAC, Teemoore, Shamroacks GAC, Bredagh GAC, St Galles GAC, Lamh Dhearg, St Mary's.