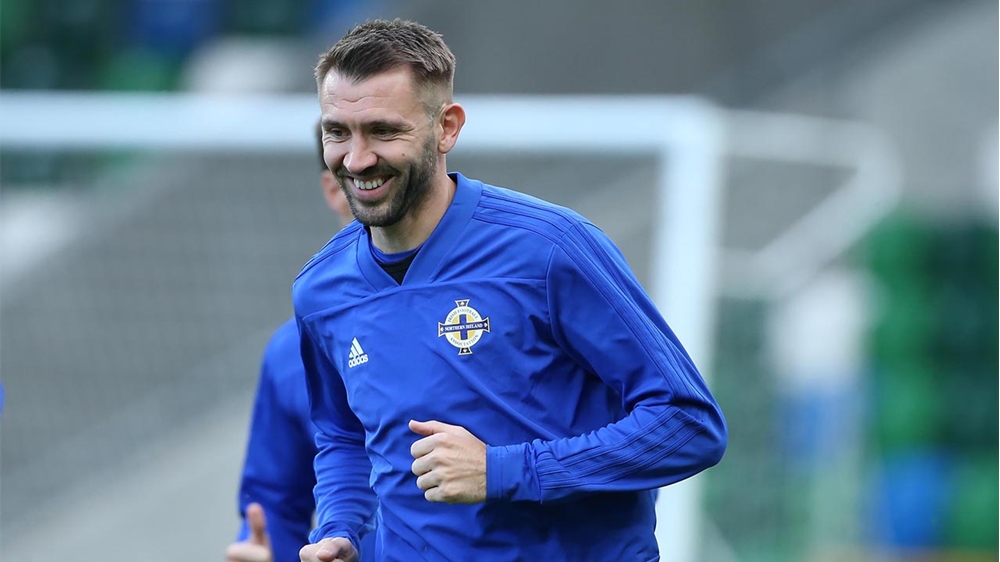 Veteran defender Gareth McAuley says he's delighted to be back involved with the Northern Ireland squad. 
The 38-year-old has been working hard to get fit since his dream move to Rangers was confirmed in early September and he's relishing the prospect of pulling on the green of Northern Ireland again – if he gets the nod from boss Michael O'Neill tomorrow.
"It's great to be back involved in the squad and it's always a pleasure to come and represent your country," McAuley said. 
"It's good to be back involved in football and getting the buzz around match days. That's something I missed for the first few days of the season. I'm obviously delighted to be involved at a stage when I'm competing to be able to play games."
And McAuley, who has 79 caps for his country, revealed the extent of the work he's been doing to get back to being match ready.
"The biggest thing that goes in football is sharpness," he said. "You can be as fit as you want and a lot of the fitness work I've been doing is keeping strengths in my legs in the gym and doing base runs things like that to keep my general fitness levels. But that's no good to you when it comes to bodies moving around you, sharpness, turning and all the stuff you need [as a footballer] sharpness and control of the ball. 
"It takes time. It probably takes a few weeks to build that up to really get into it and then trying to get minutes. I've had two or three 90 minutes behind closed doors that Rangers have organised for me to basically get me up to speed. 
McAuley made his long-awaited Rangers debut against Spartak Moscow before making his Ibrox bow against Motherwell and he's happy with his progress.
"Once the season starts it's difficult to get games. Managers can't just throw you in and take a gamble that you might be alright. I've enjoyed it, it's been hard work but I feel that I'm back to where I want to be. It's just about getting minutes on the pitch."
McAuley wasn't included in the panel for October's double-header with Austria and Bosnia but despite the results he says he still senses a real positivity in the dressing room.  
"It has been difficult watching the games, he said. "There's no getting away from that. I want to be involved and I want to be out there and around the squad to help the young players that are coming in. International football is a different experience to club football altogether, no matter what level you're playing at. It's a step up. 
"The lads have done well and have been playing some good stuff. If you want to be critical they have maybe missed opportunities in games that would have changed the games. But that will come. The confidence is there.
"There's a positive feel in the dressing room and the lads are looking forward to tomorrow's game."