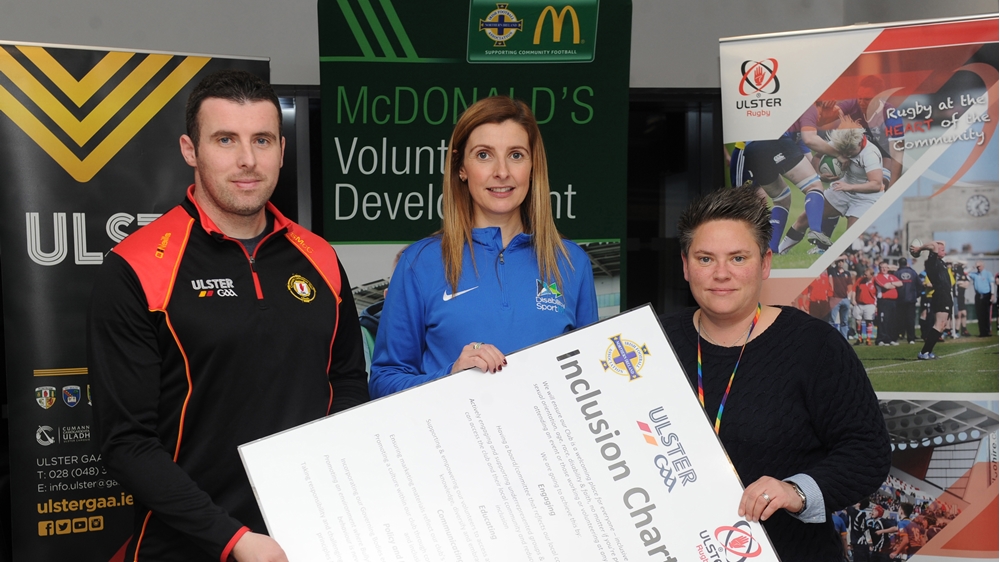 A recent multi-sport workshop, jointly organised by Irish FA Foundation, Ulster Rugby and Ulster GAA, focused primarily on developing understanding for volunteers on how to improve inclusivity within sports clubs.
The session, delivered as part of the Department for Communities 'Sport; A home for lifelong volunteering programme,' saw three guest speakers from different organisations give presentations to increase awareness around disability, diversity and making clubs more accessible to underrepresented groups. 
Shane McCann, Ulster GAA Disability Officer, identified new initiatives to support those with disabilities. 
"Being an inclusive club should not be an add-on to a club, it should be an integral part of every sports club. Opportunities are becoming more prevalent and with the continued support from governing bodies this will continue to improve. Those with a disability should be encouraged to try all disability sports to find the one that is right for them," he said.
Elaine Reid from Disability Sport NI also discussed how DSNI can assist clubs to increase opportunities for those who are disabled but still keen to play or volunteer within sport.
"Disability Sport NI is delighted that three of Northern Ireland's largest governing bodies of sport have launched an inclusion charter for their clubs.  We hope that by continuing to work in partnership with the sports that the number of opportunities available for people with disabilities to play, compete and volunteer within the club environment will continue to grow," she said.
Nuala Devenney from the Rainbow Project focused on the lesbian, gay, bisexual and transgender (LGBT) community and how sports clubs can increase awareness around this topic as well as what is required to develop this within a club setting.
"I feel the workshop with the Ulster GAA, Ulster Rugby and the Irish FA Foundation was the start of a great partnership to support LGBT+ individuals who may be part of their team / club presently and feel unable to come out.
"The Rainbow Project encouraged those club volunteers to start thinking of their own club / team and even small steps such as posters, badges or wearing rainbow laces can make a big difference. It's important to make LGBT+ people feel accepted and knowing there is someone they can talk to," she said.
As part of the evening, held at Dungannon Integrated College, the three sports also launched the new Inclusion Charter which was adopted by the clubs on completion of the workshop.