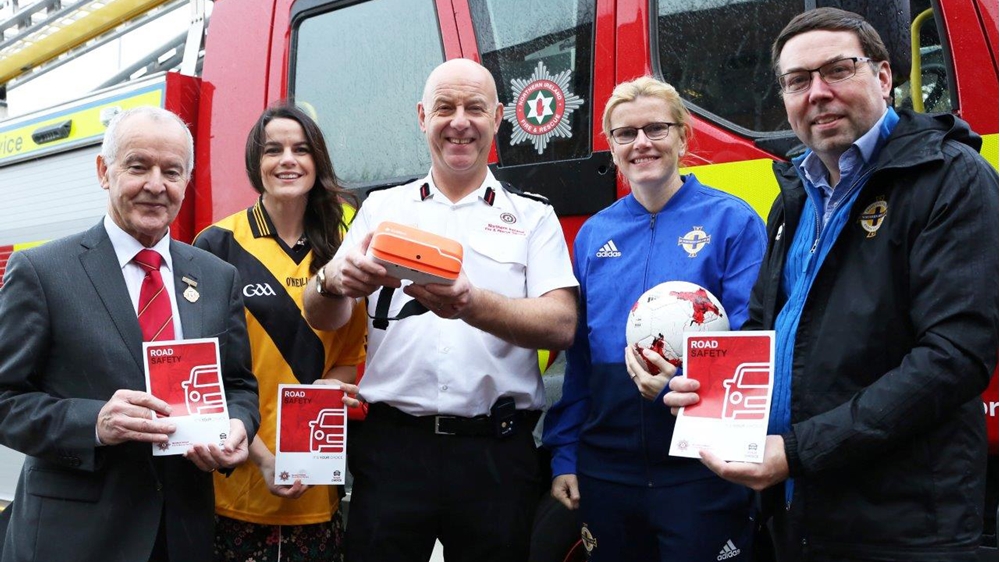 Northern Ireland Fire & Rescue Service (NIFRS) has signed a unique road safety partnership with Ulster Gaelic Athletic Association (Ulster GAA) and the Irish Football Association (IFA) to help keep young people safe on our roads. 
The agreement, signed during Road Safety Week 2018, will see local Firefighters working with the two sporting bodies, to deliver a virtual reality hard-hitting road safety education programme.  Entitled 'Your Choice', the programme is targeted at young drivers and passengers aged 16 – 24. 
Alan Walmsley, Assistant Chief Fire & Rescue Officer, Prevention & Protection explains: "Sadly 16 – 24-year-olds, and in particular young men, continue to be over-represented in the statistics for those killed or seriously injured on our roads.
"Working in partnership with both Ulster GAA and IFA provides the perfect synergy for us as a Fire & Rescue Service to help target this at-risk road user group. It will also allow us to hone our activity to those geographical areas which continue to have high levels of road traffic collisions.
"The technology in 'Your Choice' allows every user wearing a headset to experience the stark reality of being trapped in a vehicle and to observe up close the work of the emergency services at the scene of a road traffic collision.  It's uncompromisingly direct and honest. 
"With the support of Ulster GAA and the IFA we will be able to reach more young people and remind them that they have a choice to decide what kind of road user they and their passengers will be.  Those decisions are vital to their safety and the safety of other road users.
"I would like to thank and commend Ulster GAA and the IFA for their forward-thinking in embracing this new partnership, building on the foundations of other previous initiatives.  We have benefited from a strong working relationship with both these well-respected sporting associations and via 'Your Choice' we look forward to building on this to help keep more young people safe on our roads.   One life lost is one too many."    
Ulster GAA CEO Brian McAvoy praised NIFRS for the development of the programme; "We are delighted to be involved in the "Your Choice" programme, which perfectly complements our well-established "Live to Play" road safety awareness campaign. 
"Unfortunately, our members are well aware of the devastating impact of death and serious injury caused on our roads. Statistics show that most road accidents are caused by human error.  The "Your Choice" programme excellently portrays the real and serious implications of unsafe driving behaviours and we would encourage our clubs to get involved in this very worthwhile programme in order to make our roads safer for everyone."
Keith Gibson, IFA Football Development Manager, said: "The Irish FA is pleased to join with Ulster GAA on this hugely important and innovative campaign. It is great to see technology being used in this dynamic way to reinforce to young people, and indeed every road user, the importance of driving safely. We look forward to supporting the 'Your Choice' programme as it is rolled out across Northern Ireland and to working with the Fire & Rescue Service in the future to use sport to help save lives on the road."
Through 'Your Choice' and it's new road safety strategy NIFRS is embracing new technology and new ways of delivering education programmes, in partnership with others, to help keep people safer on our roads and reduce the number of road traffic collisions attended by the emergency services.  If you work with young people and think they would benefit from, the new 'Your Choice' programme please email YourChoice@nifrs.org
Image: (l-r) Sean Hasson, President of Ulster GAA, Maura McMenamin, Ulster GAA, Alan Walmsley, Assistant Chief Fire & Rescue Officer, Northern Ireland Fire & Rescue Service, Julie Nelson, IFA and Keith Gibson, Football Development Manager, IFA.