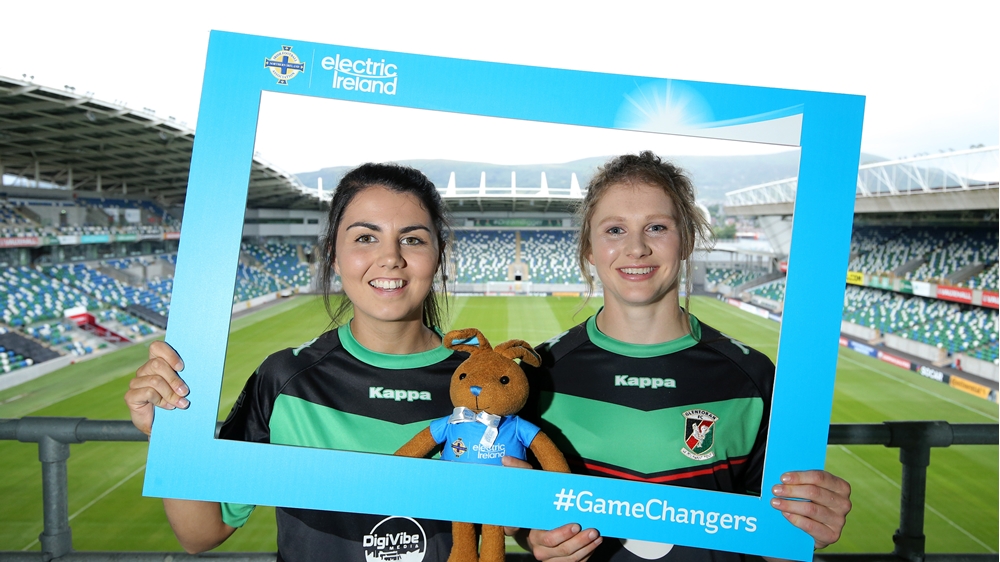 An unprecedented 47% increase in young females playing football in Northern Ireland has led to international recognition of the Irish FA's partnership with Electric Ireland.
The partnership was shortlisted at the prestigious UEFA GROW Awards in acknowledgement of the transformation of girls' and women's football here.
Shortlisted in the 'Revenues' category for best commercial strategy, partnership or activation, the Irish FA was invited to present to a judging panel in Riga, Latvia alongside Sweden and eventual winners France.
Since the partnership commenced in 2017, female participation in football has gown by almost 50% and Irish FA Sales and Marketing Director Simon Fitzpatrick was delighted to make it to the final three.
He said: "The Irish FA and Electric Ireland have transformed women's football in Northern Ireland through this partnership in a very short space of time.
"The partnership and associated #GameChangers campaign has elevated women's and girls' football to new heights and in turn we have been able to support Electric Ireland's goal of accelerating their growth in the Northern Ireland market.
"By understanding Electric Ireland's vision and values, the Irish FA was able to build the perfect strategic partnership for Electric Ireland.
"This partnership has delivered revolutionary growth in investment for girls' and women's football in Northern Ireland and we continue to work together to foster a long term partnership which will ensure its continued success."
Clare McAllister, Residential Manager for Electric Ireland was delighted to see the partnership reach the shortlist, and said: "This is a true partnership and we are delighted to see #GameChangers recognised on a wider stage by UEFA. We have already seen the powerful impact this campaign is having on local female football and this is hugely reflected in the participation levels in Women's and Girl's football in Northern Ireland. We are committed to investing and helping local communities and we see this partnership as a real opportunity to impact on the communities in which we work."
UEFA's 55 national associations produce outstanding work in growing European football and the UEFA GROW Awards (formerly known as the UEFA KISS Marketing Awards) provide a platform to collect, reward and promote the very best initiatives, projects and campaigns across different categories. 
Across the five categories of image, participation, engagement, revenues, and women's football marketing there were 115 applications from the 55 National Associations.