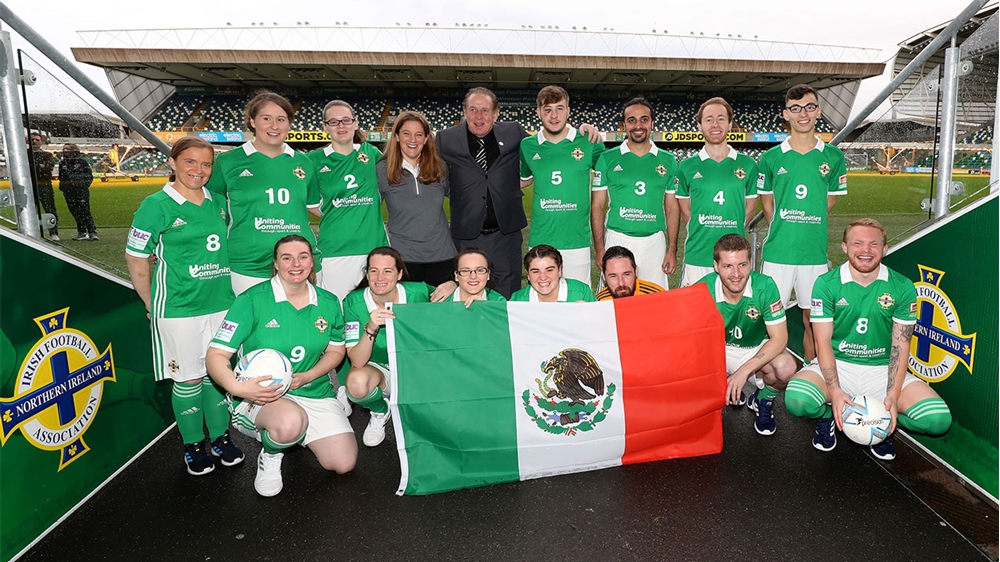 Northern Ireland's men's and women's teams had contrasting fortunes at this year's Homeless World Cup in Mexico.
The men's squad were hoping to better their 12th overall position in last year's competition in Norway, their highest finish to date, however it was not to be. They finished 29th out of 40 teams despite playing some decent football throughout the tournament.
But the women's team, who came 16th at their first ever World Cup in Norway last year, finished 14th overall after some fine performances and were unlucky not to finish higher up the rankings.
Both sides did score plenty of goals in Mexico though. They notched an impressive 118 goals between them.
In the qualifying stage of the four-a-side tournament, whichwas staged at Zocalo, right in the heart of Mexico City, the men's team finished second in Group F behind Switzerland.
In their first game they defeated Guatemala 7-2 and then beat France 7-4. However, the Swiss were a different and tougher proposition and they defeated Northern Ireland 4-2.
Stage two of the tournament saw Northern Ireland come up against Brazil, India, Finland and Slovenia.
In game one the boys in green and white lost narrowly to Finland (7-5) and then they were just pipped by India (2-1). They obviously took their frustration out on Slovenia as they hammered them 14-3. However, it was a different story in their final game when the Brazilians blitzed them 13-4.
Next up for the men's team was play-off games for the Marco Claro Trophy to determine which teams finished between 25th and 32nd overall. 
Their first game in that section saw them lose to Colombia 6-4, however they turned on the style against England, winning by nine goals to one. 
And they also won the game to determine 29th and 30th overall; they registered a 4-2 victory over Italy. In the tournament they scored 57 goals and conceded 44.
In the qualifying stage of the women's competition Northern Ireland finished second in Group C behind England.
In their first game in Mexico they defeated Wales 6-5 and then they hammered Paraguay 10-3 in game two. Their third game, however, was a tough one and they lost 7-3 against England.
In the next stage the standard of opposition was often considerably higher. Colombia beat them 12-0 – it was the only game they failed to score in - and they lost 10-4 to Chile before they drew 4-4 with India but claimed an extra point by winning the penalty shoot-out.
Their next game saw them take on Wales and they ran out 9-6 winners, however they were then brought back down to earth by Egypt. That game ended 7-2 to the Egyptians.
There was another Home Nations battle in their sixth game of the second stage. This time Scotland were the opponents and it was a real ding-dong battle, however the Scots edged it by seven goals to six.
Their final game in stage two saw them come up against Brazil and the South Americans dominated proceedings, winning 8-1.
Next up for the women was play-off games for the Fundacion Carlos Slim Trophy to determine which teams finished between ninth and 16th overall.
In their first game they narrowly lost 7-6 to USA and then defeated Paraguay 6-5. In the game for 13th /14th overall they were narrowly beaten 5-4 by Wales. In their 13 games Northern Ireland scored 61 goals and conceded 86.
Mexico were World Cup winners in both the men's and women's competitions.
The Northern Ireland teams are run by Street Soccer NI, a charity that uses football to bring positive change to people's lives. They work with disadvantaged groups including the homeless, long term unemployed, refugees, people with addictions, mental health issues, ex prisoners and more.
Their main funding comes from the Department For Communities, Housing Executive, East Belfast Mission and Irish Football Association.
Northern Ireland men's squad for 2018 Homeless World Cup: Stephen Shields, Mehrshad Esfandiari, Matthew Gallagher, Jake Allely, Gary Grant, Brian Lindsay, Dominic Rodgers, Marc Cross.
Northern Ireland women's squad for 2018 Homeless World Cup: Danielle Donnelly, Kiera Moss, Joleen Larkin, Lisa Donnan, Seanna McGuinness, Ruth Boyle, Nicola Smye.