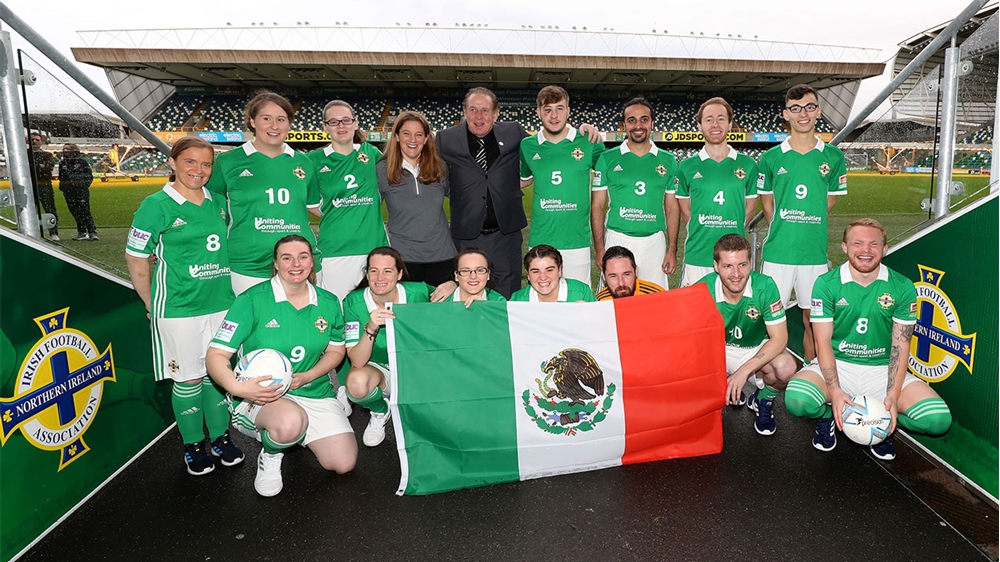 Men's and women's teams representing Northern Ireland will be aiming to set new records when they take part in this year's Homeless World Cup in Mexico.
The men's squad made history by finishing 12thoverall in last year's competition in Norway, their highest finish to date.
And the first women's team to represent Northern Ireland at the Homeless World Cup finished 16th overall in Norway. 
Both squads, who were given a send-off at the National Football Stadium at Windsor Park today, will be aiming to better their overall positions this year.
The 2018 Homeless World Cup Tournament is being staged at Zocalo, right in the heart of Mexico City, from 13-18 November. More than half a million spectators are expected to watch more than 400 games, with millions more watching the event online. 
This year's tournament will welcome 63 teams representing 47 nations across the globe.
The men's/mixed competition will see 47 squads competing for six separate trophies, while 16 teams will play for two trophies in the women's competition.
More than 500 players are set to travel to the Mexican capital for the week-long football festival.
The Northern Ireland teams are run by Street Soccer NI, a charity that uses football to bring positive change to people's lives. They work with disadvantaged groups including the homeless, long term unemployed, refugees, people with addictions, mental health issues, ex-prisoners and more.
Their main funding comes from the Department For Communities, Housing Executive, East Belfast Mission and Irish Football Association.
At today's send-off - the teams travel to Mexico this weekend - they were cheered on their way by Street Soccer NI ambassador Gerry Armstrong.
Justin McMinn, manager and co-founder of Street Soccer NI, said: "This trip is a once in a lifetime opportunity for all the players, a chance to represent your country in an amazing country like Mexico. 
"Over the last five years we have witnessed the impact this event has on the players with many of them breaking out of homelessness and unemployment on their return. They will come back full of confidence and motivation to make positive changes in their lives."
The Northern Ireland squads were selected via trials staged by the Street Soccer NI organisation. The draw for the four-a-side tournament will take place within the next few days.
Northern Ireland men's squad for 2018 Homeless World Cup: Stephen Shields, Mehrshad Esfandiari, Matthew Gallagher, Jake Allely, Gary Grant, Brian Lindsay, Dominic Rodgers, Marc Cross.
Northern Ireland women's squad for 2018 Homeless World Cup: Danielle Donnelly, Kiera Moss, Joleen Larkin, Lisa Donnan, Seanna McGuinness, Ruth Boyle, Nicola Smye.