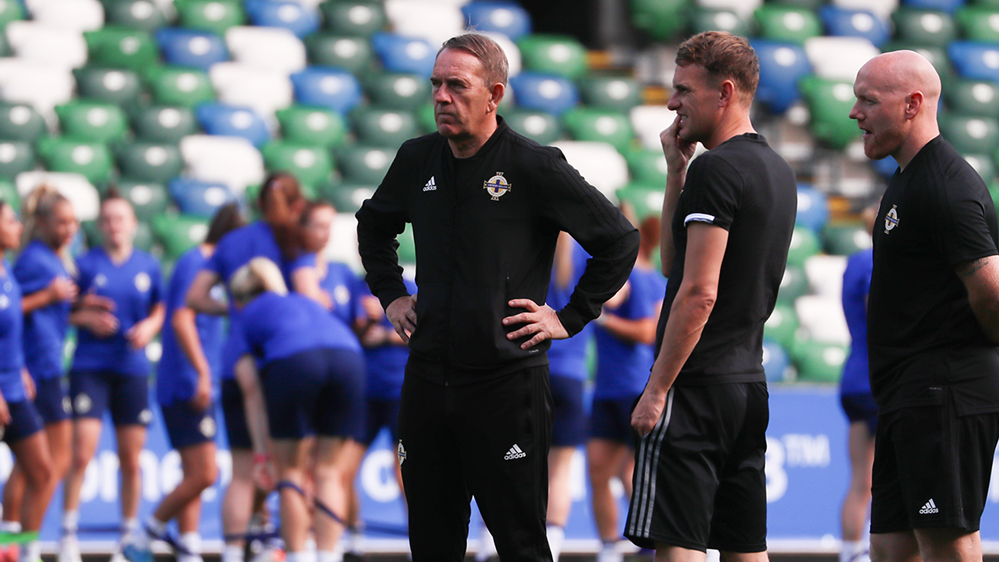 Northern Ireland senior women's team boss Kenny Shiels is relishing the prospect of his team playing at the National Football Stadium at Windsor Park but is expecting a tough test when his side go up against Latvia.
His squad go into Tuesday night's FIFA Women's World Cup qualifier on the back of a 4-0 win over Luxembourg at the weekend.
"It was a great win on Friday night," Shiels said. "We wanted to get that one put to bed. Luxembourg were decent and they caused us a couple of problems in the game but we learned from that. And we looked at the balance of our play and how we set up for a transition. Latvia will be a level above that, I'm sure."
Shiels says playing at the National Stadium is a big opportunity for his players to showcase their brand of football on a stage that is so familiar to thousands of Northern Ireland fans across the world.
"It's so special. The stadium is immense and it's the focal point of what we are. And the girls will surely feel we're at home here. We feel a belonging, we feel an identity and we feel that to represent your country is fantastic," he said.
"It's great to be here to demonstrate what our product is like in front of our supporters and our families. I feel that this is a fantastic opportunity for the girls and for the women's game." 
And the boss is calling for the fans to get behind the team in Belfast.
"I want to thank the fans so much for their support. We need them as much as we need good footballers. We need a good base where supporters are coming to get behind the team.
"When you listen to the Kop in the men's game, we want to get that. That's the best in the world. If we can get that it would be great for the girls. Can you imagine the girls getting that support? How good that would be? It would be fantastic."