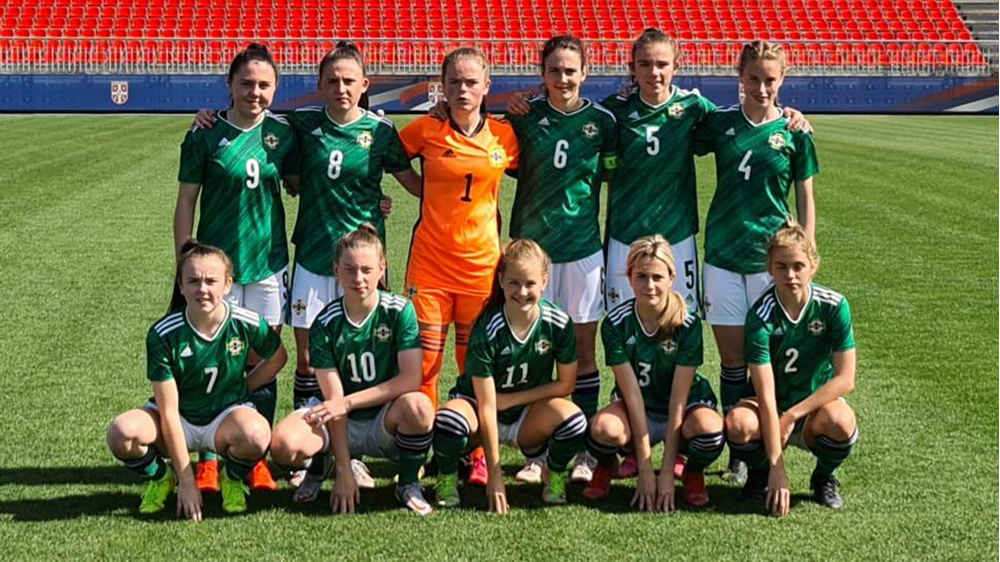 Northern Ireland's Women's Under-17 team were defeated 3-0 by Spain today in a qualifier for the 2022 UEFA WU17 European Championships.
Alfie Wylie's new-look side were up against it from the start against the top seeds in their four-team group but performed well to keep them at bay.
Despite the result boss Alfie Wylie praised the diligence and spirit of the team - many of whom were making their debut in a full competitive international due to delays caused by the COVID pandemic.  
He gave his assessment on the match: "We kicked off at 1pm in searing heat which obviously favoured the hosts, who, let's not forget are ranked second in Europe.
"We fielded a young team but we still managed to frustrate our opposition and restricted  them largely to shots from distance which was great to see. 
"I felt their third goal was preventable and one or two errors could have been avoided. But overall the team displayed resilience, character and I'm proud of them. 
"We will pick ourselves up, dust ourselves down and go again for the next game against more top quality competition."
The Group A7 mini qualifying tournament, which is being staged at the National Sports Centre in Belgrade, also features host nation Serbia and Iceland.
The Spanish had 30 attempts on goal today, including 14 on target, compared to just one for the girls in green and white. Spain scored twice in the first half before completing the scoring on 78 minutes.
Northern Ireland goalkeeper Erin McAllister was the busiest player on the park in the Serbian capital as the Spanish swept forward at every given opportunity.
After a couple of efforts had missed the target, Spain took the lead on 18 minutes when striker Carla Camacho Carrillo found midfielder Cristina Libran Quiroga and she applied the finish.
McAllister made a fine stop from Victoria Lopez Serrano and another from Laia Martret Jimenez before Martret Jimenez dragged a shot wide.
On 42 minutes Spain doubled the lead when Camacho Carrillo played in Martret Jimenez and she slotted the ball home.
Just before the break McAllister pulled off another good save to keep a Paula Partido Duran effort out.
It was backs to the wall again for Northern Ireland in the second half as they repelled numerous Spanish forays.
Camacho Carrillo fired in a couple of shots before McAllister kept out a Partido Duran strike – and more saves followed.
Northern Ireland captain Rhyleigh Marks got on the end of a Sophie Keenan free-kick but her effort was saved by Spanish keeper Jimena Vicario Casal.
Then McAllister produced a flurry of stops to keep the Spanish at bay before they made it 3-0 in the 78th minute. Substitute Lucia Corrales Alvarez crossed to Lopez Serrano who swept the ball into the net.
Further saves from McAllister followed, while the Spanish were also wasteful in front of goal.
Deep into injury time the Northern Ireland stopper made yet another save. This time she kept out a drive from another Spanish sub, Jone Amezaga Martinez.
Alfie Wylie's WU17s have been drawn in Group A7 in the first step towards next year's WU17 Euros in Bosnia and Herzegovina.
Under a new format last-placed teams in each League A group mini tournament will be relegated in Round 1, while the winners of each mini tournament in League B and best runner-up will be promoted.
In Round 2 - to be played next spring - the seven group winners in League A will qualify for the final tournament.
After Round 2 the winners of mini tournaments in League B will be promoted and the last-placed teams in League A will be relegated for Round 1 of the next edition of the tournament.
Serbia will be Northern Ireland's next opponents in A7 - at 6pm on Monday. The final group match for Wylie's side will be against Iceland next Thursday (1pm).
Northern Ireland: Erin McAllister, Sophie Keenan, Abi Sweetlove, Lucy Johnston, Sarah Tweedie, Aoibhe O'Neill, Rhyleigh Marks, Aimee Kerr, Naomi McLaughlin, Keri Halliday, Rachel McIntyre. Substitutes: (used) Claragh Quigg, Niamh Coyle, Tara Reilly, Chelsea Scott; (unused) Ellie Scott (GK), Cerys Madden, Rebecca Magee, Sophie Gargan, Emily Reid.
Spain: Jimena Vicario Casal, Naara Miranda San Miguel, Marina Artero Moreno (captain), Yolanda Sierra Villanueva, Judit Pujols Parera, Cristina Libran Quiroga, Marina Rivas Jaen, Victoria Lopez Serrano, Paula Partido Duran, Carla Camacho Carrillo, Laia Martret Jimenez. Substitutes: Sofie Fuente (GK), Adriana Ranera Casanovas, Sandra Villafane Serrada, Lucia Corrales Alvarez, Olaya Enrique Rodriguez, Jone Amezgaga Martinez, Sara Ortega Ruiz, Nora Fernandez Parra, Raquel Inigo Gomez.