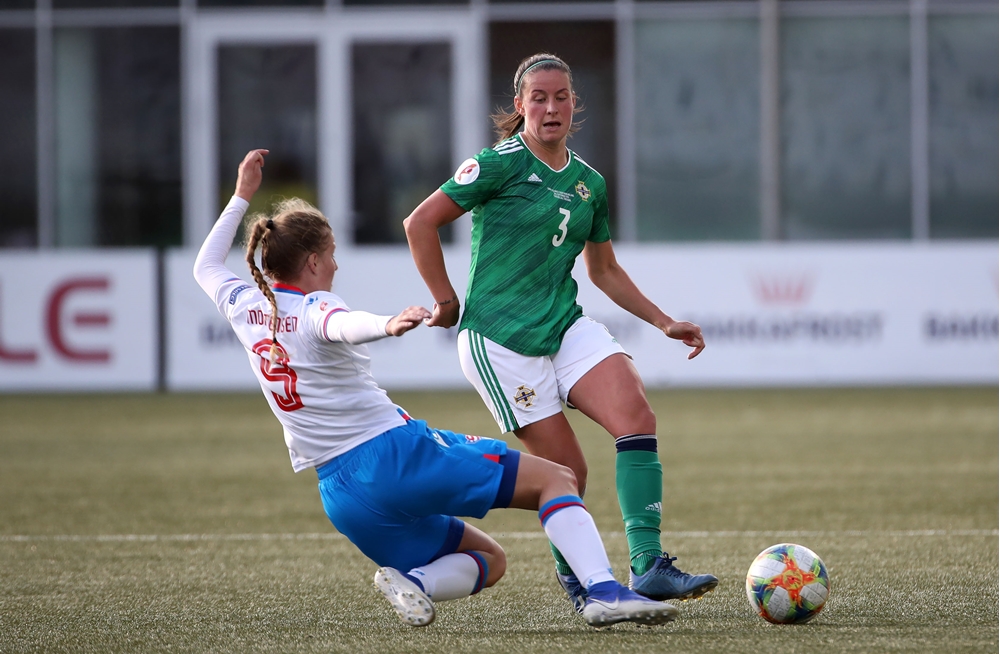 It's been a long road back to fitness for Northern Ireland senior women's star Demi Vance.
The Rangers defender sustained an anterior cruciate ligament (ACL) injury while playing in a crucial UEFA Women's Euro qualifier against Belarus last November.
Here, she writes exclusively for irishfa.com about her realisation on the extent of the injury, her surgery as well as the highs and lows of her recovery. She also reveals what it means to be back playing for her club and to be part of the international squad once again.
27 November 2020, Northern Ireland v Belarus, Seaview, Belfast
We were winning the game 2-1 when I ran to close down their full back, planted my foot, twisted my body and just heard a noise. 
I was convinced I was fine, passed the tests our physio and doctor had for me on the side line and I told them I could play on. Now, I realise I was running on adrenalin. 
To be honest I was a bit all over the place when I came back on and as I was trying to get back into the game we conceded a goal. I instantly thought 'that was my fault'. We then went 3-2 up just minutes later and I remember thinking 'we need to win this game; get me off the pitch'. 
Even though I think I knew deep down I was hurt, it was such a relief to beat Belarus and know we were still on track to get to the Euro play-offs. The squad was on such a high but personally I've never experienced feeling so high and so low all at the same time. 
MRI results
The next day I had so many emotions swirling around. I kept telling myself it was a short-term injury, then thinking the worst. I was also still happy we beat Belarus and that history was on the horizon.
'The phone rang in the car and my heart sank. I think I knew instantly knew it was bad when the results came back so fast'
The phone rang in the car and my heart sank. I think I knew it was bad when the results came back so fast. It was a long day. The players and staff went to training while the team doctor and I went to get the MRI scan. 
We were expecting the results back within 24 to 48 hours, but we got them in around 20 minutes on our journey back. The phone rang in the car and my heart sank. I think we both instantly knew it was bad when the results came back so fast. 
It was my ACL. I just sat there trying to take it in. I think until it's fact you never believe it, so it was a shock to my system to be told. 
Once the players and staff arrived back from training they all rallied around me. I told them and we just sat together as a team. It was a shock for everyone. From the high the night before to then getting bad news 12 hours later. 
Kenny Shiels and I sat together for a while after and he helped me realise I could get through it and that he and the team would be there every step of the way. I couldn't have hoped for better support from my team-mates and each of the staff. They were there at every part of the journey to see me through. 
Surgery 
After the team qualified for the Euro play-off I had a window of three and a half weeks to prepare for my surgery. That was the only thing I concentrated on: being in the gym and being as strong as I could so that it would help with my recovery. 
My surgery date was Christmas Eve in Glasgow. That meant five days of isolation in a hotel room beforehand on my own. I had surgery that morning and flew home later that night. Christmas Day was the start of my road to a comeback. 
Rehab 
The beginning of my rehab was tough to accept. I went from being the fittest and most confident I've ever been as a player to being almost sedentary. My rehab began with the simple task of getting my leg back to full extension and flexion. 
The majority of my rehab was through lockdown at home which made it that bit harder but I was lucky enough to access to a gym so I didn't miss any stage.
I spent the first four months at home doing two sessions a day, six days a week. I kept videos of each stage as I was progressing. I found them great to watch when I sometimes doubted how far on I was. They were also good to view if at any stage I needed reminded that I was moving in the right direction.
These were the small things that kept me going through the tough days when I didn't feel like I had a good session or when I was feeling low. 
When I got back to Scotland my strength was back and I started to increase my rehab. Fifteen weeks later and it was time to put my boots back on! This was a highlight for me and one of the things I was looking forward to the most. When I stepped onto the pitch with the ball that was when I thought 'I can do this' and could see light at the end of the tunnel. 
A lot of the rehab is in the gym away from the team and working with just the physio was a big challenge for me. I'm so used to playing with my team-mates. I missed the changing room laughs and putting on my kit and the match day feelings. With the Euro play-offs coming up I felt a lot of this even more, but it gave me that little bit more of motivation to keep going.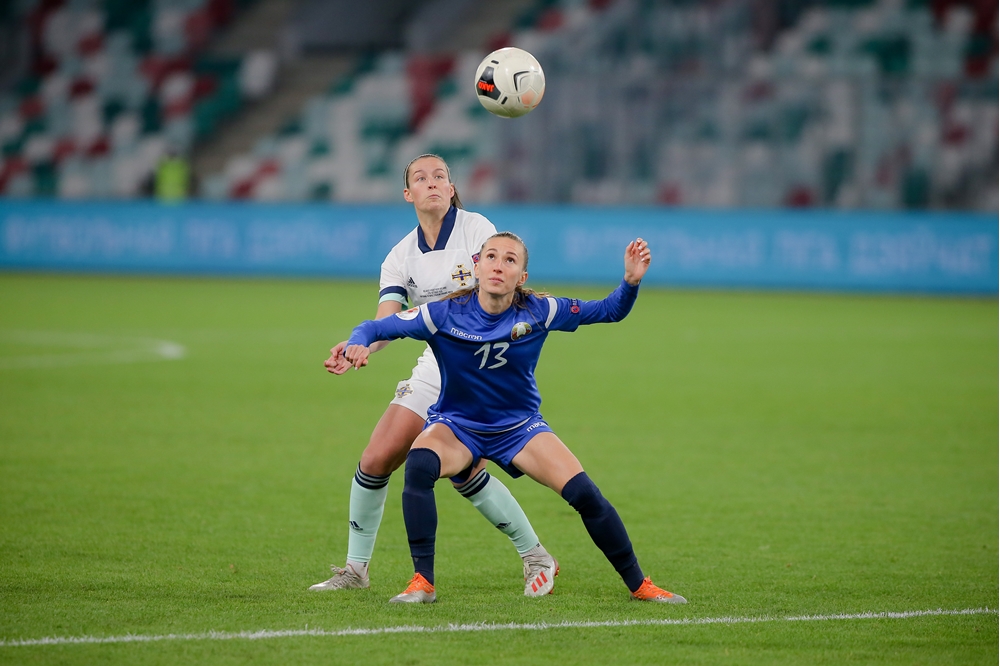 Play-offs 
I remember watching Northern Ireland take on Ukraine away on the TV. Parts of it I couldn't watch. I just wanted the whistle go and for the team to get back to Belfast. When we won away, I knew then we're going to the Euros!  
We had been hit with a lot of injuries during this campaign and to qualify like we did was unbelievable. Watching from the stands in Belfast was heartbreaking but all the injured girls kicked every ball.
But injured or not, to qualify for the Euros is a feeling I can't even begin to describe. The moment after the final whistle went and we had qualified, the whole team ran over to the stand and we celebrated together. Next stop, Euros!
After the play-offs I progressed to my final stage of rehab: my return to play. It was definitely the most frustrating stage for me. It was the very point when I thought I was ready but was told to relax and have some patience. 
I started to realise I was close when I started non-contact training at Rangers. I did this for two weeks and progressed to contact training for another two weeks. This was a long month for me. I felt like I had watched so many games and I was just ready to play. 
Finally, the day arrived.  254 days later and I was back!
My aim throughout all of this was to be fit and ready to be selected for the start of the season with Rangers and to be a part of Kenny's Northern Ireland team that was about to start a fresh Women's World Cup qualifying campaign. 
I felt a real sense of accomplishment when Kenny contacted me to tell me I was in his 23. 
To me, at this point, I feel like this was the last piece of my rehab journey and it was now almost complete. I just wanted to be back training and on the pitch with the squad. 
#GAWA