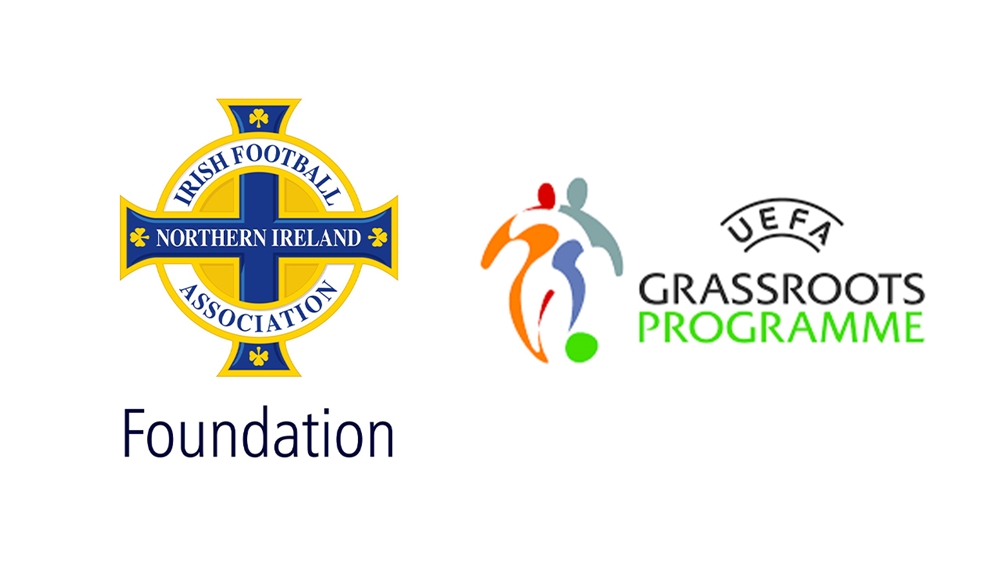 The Irish Football Association's Foundation is supporting this year's UEFA Grassroots Week by staging a series of events and activities across Northern Ireland.
Each year UEFA provides financial, physical and other resources to member national associations for the development of grassroots football – and its annual Grassroots Week celebrates its commitment to the game at grassroots level. 
During this year's special week, which gets under way today (23 September), the Irish FA Foundation will be highlighting its education and employability programme, its support for girls' football, disability football initiatives and much, much more.
The foundation's Education and Employability programme is designed to give participants additional qualifications on top of their academic qualifications.
It also provides participants with opportunities to use these extra qualifications and develop their new skills by volunteering and/or working on Irish FA programmes such as holiday camps, coaching in after schools clubs, coaching at local primary schools, doing work experience and getting involved at local clubs. 
Tomorrow an event is being staged at the Ballymote Centre in Downpatrick which will have a special focus on the Down Special Olympics football team and in particular Glenn McBride, an enthusiastic member of the team who passed away earlier this year. 
On Saturday there's a celebration of the Little Dribblers scheme for girls aged three to seven which is run by Mid Ulster Ladies FC. A year ago there were 13 girls involved, however under the guidance of Rachael Rodgers that number has now grown to 70. 
Rachael revealed the demand has been so high in the Cookstown area that the club now runs two one-hour sessions each Saturday compared to just one Little Dribblers session when it first started.
On Sunday the foundation is set to team up with KickOff@3 to stage a tournament in Belfast. KickOff@3 aims to see less youth violence and hate crime and an increase in mental health awareness, physical fitness and inclusion in sports across the UK. 
Also during Grassroots Week there will be a focus on the foundation's Ahead of the Game programme and how it promotes good mental health in grassroots clubs. 
Next Tuesday, at Girdwood Community Hub in north Belfast, a Shooting Stars session is being staged for girls aged 4 to 11. The aim is to help them improve their football skills in a fun environment.
And encouraging kids to read - through reading football books - is set to be the focus of an event next Wednesday. 
As a forerunner to Grassroots Week, Irish FA President Conrad Kirkwood visited grassroots facilities in Kesh, Irvinestown and Ballinamallard and said he was impressed with the work of volunteers.

He pointed out: "The schemes for children at NFC Kesh, Irvinestown Wanderers and Ballinamallard United are developing the players and coaches of the future.
"Volunteers are vital to the game. People like Diane Irvine, Paul Cassidy, George Beacom and Damien Elliott play a vital role in creating a sense of belonging in their communities. They promote the benefits of lifelong participation in football drawing from their own footballing and life experiences.

"I received a warm Fermanagh welcome wherever I went and it was great to meet so many dedicated people."