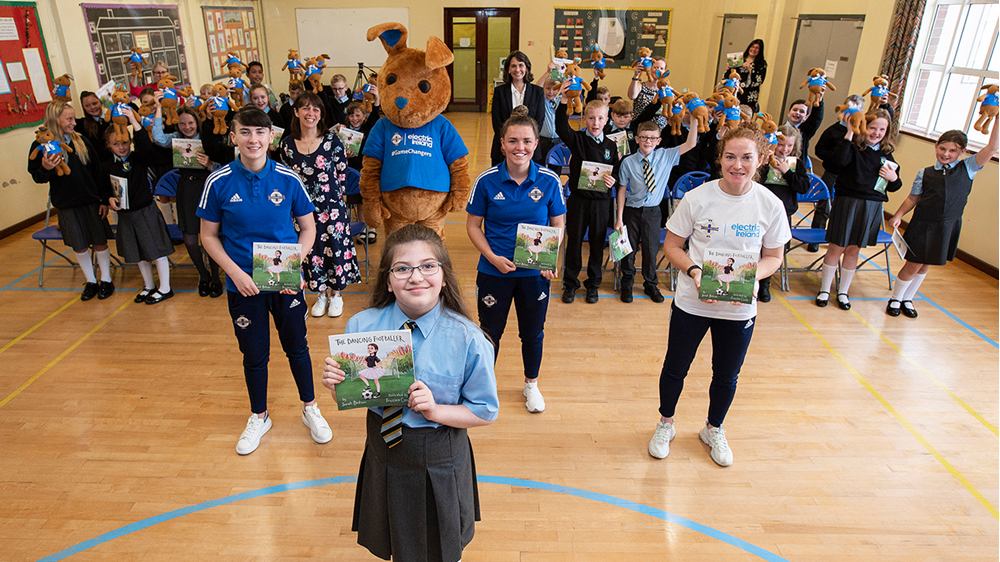 The winner of the Electric Ireland Shooting for the Stars children's writing competition has officially unveiled the book featuring her winning story.
Sarah Dickson (9) was supported by Northern Ireland senior women's team captain Marissa Callaghan, and her international team-mates Toni-Leigh Finnegan and Abbie Magee, at the big reveal of The Dancing Footballer.
The book unveiling was staged at Sarah's school, Carrick Primary in Lurgan, and cheering her on were her P6 classmates.
Her story about a girl who danced her way to footballing success was brought to life by professional illustrator Fruzsina Czech and published in association with Blackstaff Press.
The big reveal included a storytelling session hosted by Marissa, Toni-Leigh and Abbie.
"It is so exciting to hold the book in my hands," said Sarah. "My story was read by Marissa and the heroes who inspired it. I can't believe it."
A copy of The Dancing Footballer, which deals with themes of inclusivity and equality, will be made available to all primary schools in Northern Ireland via the Education Library Service.
The Shooting for the Stars children's writing competition was organised by Electric Ireland as part of its Game Changers NI campaign in partnership with the Irish Football Association. The campaign supports girls' and women's football at all levels across Northern Ireland.
Image: Sarah Dickson unveils the book in front of her P6 classmates at Carrick Primary School supported by Toni-Leigh Finnegan, Electric Ireland's Rabbit mascot, Abbie Magee, Anne Smyth (sponsorship specialist with Electric Ireland) and Marissa Callaghan.