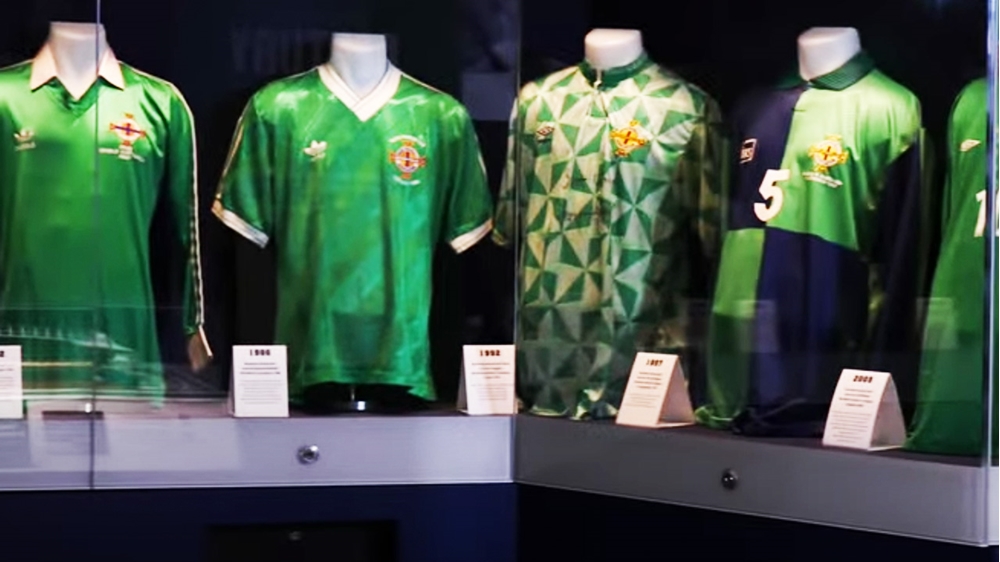 Irish FA Tours, which includes visits to the Irish Football Association's Education and Heritage Centre, has been welcoming plenty of visitors in recent months.
The tours arm of the association is now back in full swing following an easing of Covid-19 restrictions and some new exhibits in the EHC, which is located within the National Football Stadium at Windsor Park, are proving to be particularly popular.
Irish FA Tours, which through its activities aims to conserve and promote the heritage of Northern Ireland football for current and future generations, has added fresh content to its digital archive.
The new content particularly focuses on the women's game in Northern Ireland, including a Women's 50-cap Club, team photographs and memorable moments. 
Irish FA Tours will soon be introducing interactive handheld devices on tours which allow visitors to tap in to additional content, including facts and trivia, match footage and interviews. 
And there's a major new display of Northern Ireland shirts from across the years in the EHC exhibition area.
Michael Cockcroft, one of the tour guides at the centre, has supplied the bulk of the shirts.
There's a story behind each one, however Michael has a favourite shirt and a favourite story to go with it.
He explained: "Multi-Coloured Swap Shop, presented by Noel Edmonds, was the must-see Saturday morning TV viewing for all children in the late 1970s. They went around cities and kids swapped toys with each other.
"Northern Ireland felt a bit left out as the programme toured GB, so one of the local radio stations, I think it was Radio Ulster, started something similar for locals. My mum rang on my behalf - I was about seven - asking to swap a Mouse Trap game I had for football programmes or anything to do with football.   
"Luckily I had a response, so my mum, dad and myself drove over to a house in Botanic in Belfast." 
Once the Cockcrofts arrived at the south Belfast property they were met by a woman who gave him a bag packed full of Arsenal and Northern Ireland match programmes.
Michael revealed: "I was ecstatic and handed the game over. The lady told me to hold on to it because her son did not need it. Her son was Sammy Nelson, who played for Arsenal and Northern Ireland. 
"She brought me into their front room and showed me Sammy's international caps and awards which were on display. Sammy's dad then handed me a bag saying 'Sammy asked me to give you this' and when I opened the bag it had one of Sammy's Northern Ireland shirts in it. And that's the shirt now on display at the EHC."
And the story does not end there.
Michael further explained: "Although I have collected a few hundred shirts since, it would still be my favourite shirt because of the story. It also leads to probably my most expensive shirt.
"I had a 1958 World Cup shirt, a green 1982 World Cup shirt and both the green and white 1986 World Cup shirts. The one missing was the white 1982 shirt.  
"Four of five years ago one came on the market and, believe it or not, it was one worn by Sammy Nelson. I just had to have it and thankfully the seller, Classic Football Shirts, cut me a great deal, but it was still expensive."
The other shirts on display include one from pre 1931 (blue), a 1930s green shirt, a 1957 top worn by Sammy McCrory in a famous 3-2 win over England at Wembley and a 1969 top worn by Sammy Todd.
Shirts from the 1982 and 1986 World Cup tournaments are also featured along with another worn by Gerry Taggart against Germany in 1992. And completing the line-up are a Pat McGibbon top which he donned against Albania in 1997 and a Jeff Whitley shirt worn against England in March 2005.