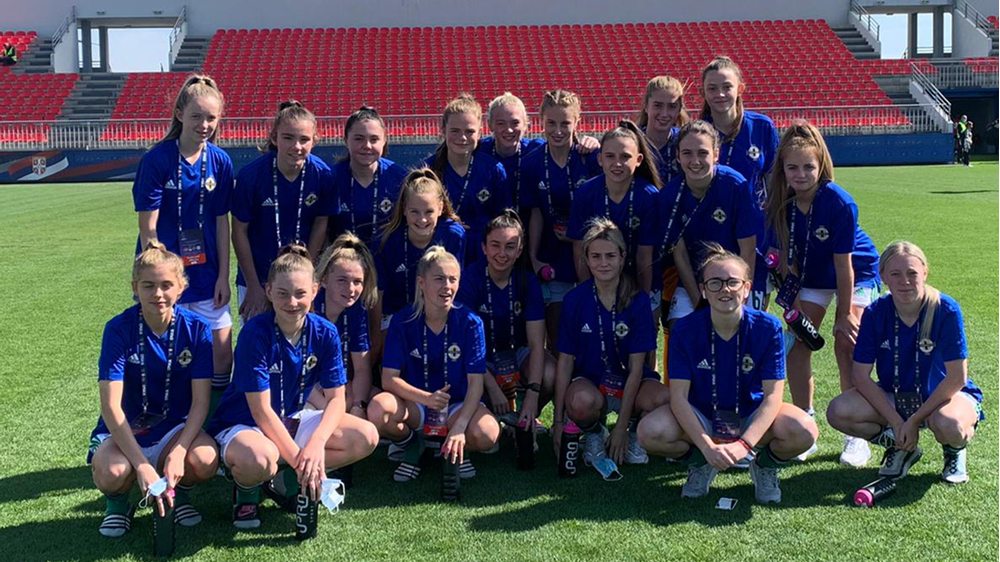 Northern Ireland's Women's Under-17 team were defeated 4-0 by Serbia this evening in a qualifier for the 2022 UEFA WU17 European Championships.
After losing 3-0 to Spain in their opening match in a four-team mini qualifying tournament, Northern Ireland were looking for a positive result in their second game in Group A7 at the National Sports Centre in Belgrade.
However, Serbia's front three proved too hot to handle - their captain Nina Matejic was particularly influential - and the host nation deservedly won the match.
The girls in green and white fell behind after just four minutes. Serbia skipper Matejic fed the ball to midfielder Anja Jestrovic and she applied the finish.
Minutes later striker Matejic had a shot blocked and defender Milica Saric steered an effort wide.
Both defences were on top for a considerable period before another Serbian defender, Milica Stojic, let fly, but her strike missed the target.
Matejic had a shot blocked and Northern Ireland keeper Erin McAllister stopped another drive from the Serbia skipper.
Just after the restart McAllister made a decent stop from a Nadja Uvalin attempt on goal.
The Serbs continued to press and both midfielder Irena Majstorovic and Stojic shot wide before they extended their lead on 62 minutes. This time Jestrovic turned provider for forward Sara Stokic, who stroked the ball home.
Minutes later Saric hit the woodwork as Serbia piled on the pressure.
On 76 minutes, however, Northern Ireland fashioned a decent chance. Naomi McLaughlin delivered a corner which was met by defender Sarah Tweedie, however her effort drifted wide of the target.
It was 3-0 to Serbia just a minute later. Stokic combined with Matejic and the Serbia captain fired the ball into the net.
The icing on the cake was applied by Matejic in the 89th minute. The skipper got on the end of a pass from substitute Sara Trbulin and slid the ball past McAllister.
Iceland will be Northern Ireland's final opponents in A7. They will play them at 1pm on Thursday (30 September).
Iceland defeated Serbia in their first group game (4-1) before losing 4-0 to the Spanish earlier today.
Under a new format last-placed teams in each League A group mini tournament will be relegated in Round 1, while the winners of each mini tournament in League B and best runner-up will be promoted.
In Round 2 - to be played next spring - the seven group winners in League A will qualify for the final tournament in Bosnia and Herzegovina next summer.
After Round 2 the winners of mini tournaments in League B will be promoted and the last-placed teams in League A will be relegated for Round 1 of the next edition of the tournament.
Northern Ireland: Erin McAllister, Sophie Keenan, Abi Sweetlove, Lucy Johnston, Sarah Tweedie, Aoibhe O'Neill, Rhyleigh Marks (captain), Aimee Kerr, Naomi McLaughlin, Keri Halliday, Chelsea Scott. Substitutes: (used) Rachel McIntyre, Tara Reilly, Cerys Madden, Emily Reid, Sophie Gargan; (unused) Ellie Scott (GK), Claragh Quigg, Rebecca Magee, Niamh Coyle.
Serbia: Ema Aleksic, Aleksandra Gajic, Milica Stojic, Mina Matijevic, Milica Saric, Nadja Uvalin, Milica Gakovic, Irena Majstorovic, Anja Jestrovic, Nina Matejic (captain), Sara Stokic. Substitutes: Jovana Dukic (GK), Katarina Antesic (GK), Anja Medic, Sara Trbulin, Olivera Arsenin, Andela Milovanovic, Ana Mandic, Kalina Stanisic.