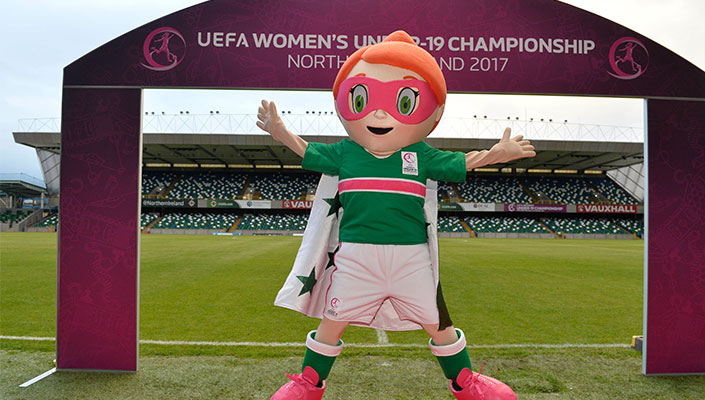 Last week the Irish FA launched the Mascot for the Women's UEFA Under 19 Championship finals which will take place in Northern Ireland from the 8– 20 August 2017.
Eadie Fallis entered the competition along with her classmates at Jones Memorial Primary School in County Fermanagh back in April 2016. 
Her design was selected from over 3,500 entries provided by Primary School boys and girls from across Northern Ireland.  The concept was then brought to life by Rainbow Productions, a mascot design company that have delivered sporting mascots for the Olympic Games, FIFA World Cups, UEFA European Championships and a variety of professional clubs across the UK and Europe. 
The young Fermanagh girl wanted her design to be a symbol of Northern Irish football and the addition of the colour pink added a splash of girl power.  "The superhero concept is to remind us that female footballers can be superstars too" 
The Irish FA are now asking supporters to be part of the process of naming this mascot which will be the symbol of the UEFA Women's Under 19 Championship and women's football in Northern Ireland post 2017. 
To enter please fill in the form below.  A judging panel will handpick the three best names which will then go forward to an online poll.  The winner of this competition will receive a £100 JD Sports gift voucher.
The closing date for entries is Friday 26th August at 23:59pm.
#BestofNI #WU19EURO2017