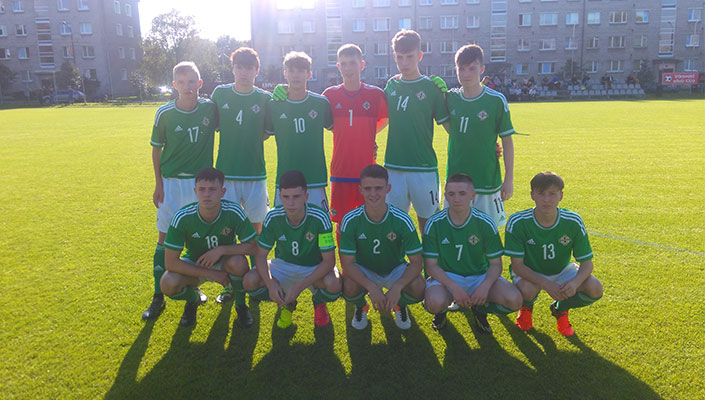 Northern Ireland U16s won 1-0 today in their second international challenge match against Estonia in Tallinn. 

The only goal came after 11 minutes when Ben Wilson collected a pass from George Curran, cut in from the left and beat the home keeper with a low right foot drive into the corner of the net. 
The visitors were in complete control with Jordan McEneff and Callum Ferris showing up well in midfield. 
However, failure to convert a number of clear cut chances meant that Northern Ireland had only Wilson's early strike to show for their first half dominance.
The catalogue of missed chances continued on the restart. Substitute winger Lee O'Brien delivered a great cross to Caolan McLaughlin but the tall striker volleyed high over the bar from 6 yards.
Soon afterwards Kian McGarvey went close with a left foot shot from the edge of the box which grazed the bar.
In the closing stages Estonia came more into the game but could make little impression on the visitors defence in which Barney McKeown and Dan Smith were outstanding.
FULL-TIME: Estonia 0-1 Northern Ireland
Northern Ireland Team
Paul McLaughlin, Jake Corbett, Barney McKeown, Jordan McEneff (c), Ben Wilson, Callum Ferris , Paul McAdorey, Caolan McLaughlin, George Curran, Ruairi O'Hare, Jamie Glover
Substitutes:
Kian McGarvey replaced Wilson (40 minutes)
Mal Smith replaced Corbett (50 minutes)
Jack Conlon replaced Glover (50 minutes)
Lee O'Brien replaced Curran (50 minutes)
Connor Hitchen replaced Paul McLaughlin (58 minutes)
Connor Farrelly replaced Ferris (58 minutes)
Sean Og Gallagher replaced O'Hare (58 minutes)
Dan Smith replaced McEneff (58 minutes)