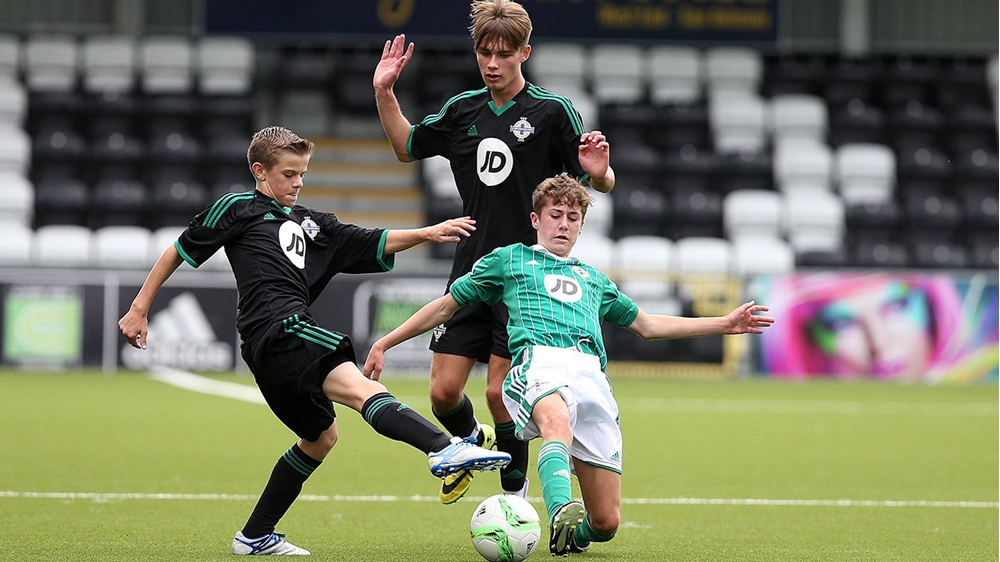 Four kids from across Northern Ireland have taken a step closer to playing for their country after earning a place on Club NI, the Irish FA's Elite Performance Programme.
The association and leading sports fashion retailer JD offered kids at under 13, 14 and 15 levels the chance to become part of Club NI via a social media and in-store campaign.
The aim of the initiative was to uncover young talent with the potential to represent Northern Ireland at future World Cups and European Championships.
Following extensive trials, strikers Jack Dillon (aged 14, from Moira) and Vicky Saldanha (aged 14, from Dungannon) have earned a place on the Club NI programme along with Lewis Brown, a 13-year-old goalkeeper from Carrickfergus, and 12-year-old defender/midfielder Chris Colhoun, who lives in Derry-Londonderry.
Louis Bassett, a Leicester-based midfielder (aged 14) with Northern Ireland roots, has made the grade as well. Initially 600 kids attended trials in Belfast, Omagh, Derry-Londonderry and Newry.
From there 30 were selected to attend a three-day residential at Queen's University led by experienced Irish FA coaches. Following the residential a squad of 18 players was chosen to play against a team made up of current Club NI squad members – that game was staged at Seaview last week – and five of those trialists have now been chosen to enter the Irish FA elite programme.
Jim Magilton, the Irish FA's Elite Performance Director, said:
"The initiative has been a huge success. This excellent concept from JD has given us an opportunity to look at 600 boys across Northern Ireland who would not have been on our radar.
"It has also given the young people an opportunity to work with our coaches and we hope that they have all had a wonderful experience."
Jim said the trial game at Seaview was the highlight of the process.
"The successful boys acquitted themselves really well. Their ability, attitude and application shone through," he explained.
The winners will now enter into Club NI where they will receive regular coaching and be continually assessed along with other boys on the programme who are considered to be the best players in the country in their respective age groups.
Jim added: "Through increased contact time we aim to improve them as players. These lucky boys could go on to represent Northern Ireland at under-age level for starters. And hopefully we may have unearthed a future senior international or two."