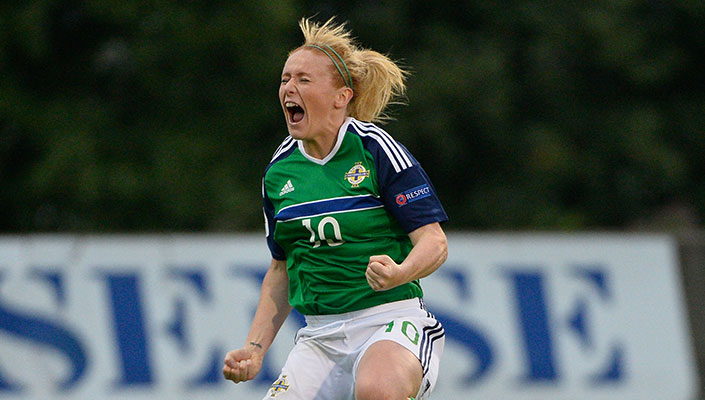 Northern Ireland goalscorer Rachel Furness believes her side can still improve after a battling display earned them a draw in the UEFA Women's Euro Qualifier against the Czech Republic.
Furness has over 50 caps for her country and she believes the team can continue to improve to turn those draws into wins, she said: "I think it shows how much we have improved in the last few months. Our last outing was away to the Czech Republic and we lost 3-0 so the result shows how we have come on leaps and bounds.
"We should have won tonight and that shows how much we have come on. We can take a lot of belief and confidence from the result. We are a squad that is gelling and we are getting better with every game, we aren't going backwards. We are improving and that shows with the great performance tonight."
Furness scored her third goal of the qualifying campaign with a 55th minute penalty to seal a point at Mourneview Park and the Sunderland midfielder shared her pride to score another goal for Northern Ireland, she said: "I think that's my second penalty for Northern Ireland but it's always a great honour to score.
"I play with my heart on my sleeve and I straight away wanted to take the penalty, and I got fouled for it as well. I was confident I could put it in the back of the net. It's a proud moment for myself and for my family and it's one for the team, it's just good to get that goal."
Both sides went in search of a winner with a point leaving them with a battle to get into the top two spots in the group which brings a chance to qualify for the UEFA Women's Euro2017. 
Furness put in a man of the match performance leading by example but it wouldn't be rewarded with the three points, she said: "I like to think of myself as being a leader on the pitch and as one of the most experienced ones in the squad i want to install that confidence into them that we can get the ball down and play and when we do attack we can have that confidence to be clinical.
"Tonight showed that we all pulled each other through and were confident as shown with the chances we created. The keeper pulled off some great saves which on another night may have gone in so we leave with the a point when we feel we should have got three."
Northern Ireland next face Italy at Mourneview Park on Friday September 16th.