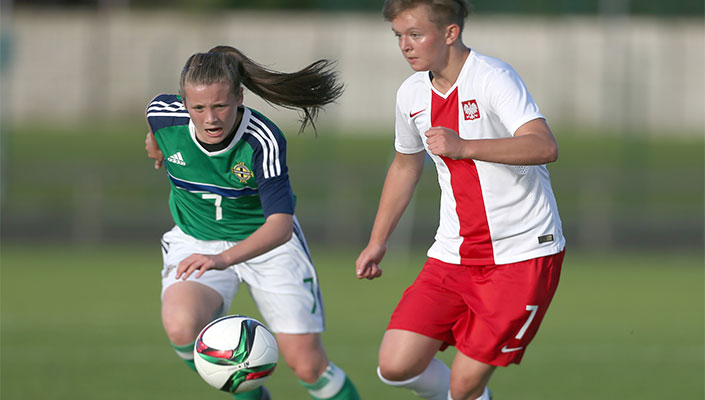 Northern Ireland Under 17's Women were unable to begin their two friendly games against Poland with a win as they went down 4-0 at the Riada Stadium in Ballymoney.
A first half header from Angelika Kolodziejek just after 20 minutes opened the scoring before second half goals from Alicja Materek, Klaudia Maciazka and Joanna Weclawek sealed the win for the visitors.
Poland had the opening chance of the game after eight minutes as Klaudia Maciazka had space on the left to shoot but the effort was matched by Northern Ireland keeper Lauren Currie.
But Currie would be beaten for the opener just after 20 minutes. A free kick from 25 yards, taken by Poland defender Kolodziejek, hit a deflection and crept past the keeper into the bottom corner.
The visitors continued to pressure and could have doubled their lead as Olga Sirant met a cross from just a few yards but couldn't guide it on target.  
Northern Ireland, led by the energetic Emily Wilson, tried to get in behind the Polish backline but were unable to trouble keeper Natalia Piatek in the opening stages of the second half.
But Poland doubled their lead with just under 20 minutes to go as a cross from the left met the head of Mattered at the back post to make it 2-0.
It was soon three as an effort from 25 yards flew into the top corner past Currie thanks to the left foot of Maciazka.
And with only a few minutes left, Poland made it 4 as Joanna Weclawek went through on goal unchallenged and rounded keeper Currie to tap into an empty net.
The two teams will meet again on Saturday at the Riada Stadium with kick off at 12pm.
Northern Ireland: Currie, Canning, Burrows, White, Hamilton, Smyth, Bell, McDaniel, Wilson, Magee, Ruddy. Subs: Perry, Beggs, Neece-Taggart, McGarrity, McMurray, Kilpatrick, Hunter
Poland: Piatek,Kolodziejek, Maciazka, Helinska, Kowalczyk, Ostrowska, Sirant, Stasiak, Materek, Baczek, Legowski. Subs: Sikorska, Bartman, Weclawek, Matysiak, Filipczak, Uminska, Tylak.