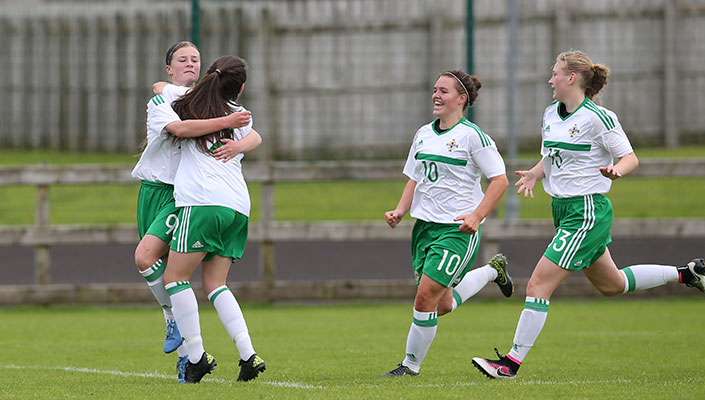 Northern Ireland Under 17's Women took on Poland for the second time in a week as they looked to build on Thursdays performance. 
Northern Ireland started brightly and Megan Bell almost opened the scoring after a bursting run from midfield but her shot was saved by Matysiak.
Poland began to take control of the game and looked to have opened the scoring but Yasmin White was able to prevent the shot by Filipczak.
But it was Northern Ireland who opened the scoring, after Abbie Magee pressured the Polish defence into a mistake, and brilliantly lobbed the keeper.
Minutes later Emily Wilson made a fantastic run from outside the box and her shot was handled inside the area. Wilson coolly stepped up and converted the penalty to make it 2-0.
Poland started strongly in the second half as they looked to find a way back into the game, however Lauren Currie was on good form.
Poland found a way back into the game on the 60th minute when Alicja Materek scored from an audacious effort from range to make it 2-1.
Poland continued to press and on five minutes from time got their reward as Weclawek used her pace to break from away from the defence and scored the equalizer. That proved to be the last bit of action as the game finished 2-2.
Northern Ireland: Currie, Beggs, Burrows, White, Hamilton, Smyth, Bell, Neece-Taggart, Wilson, Magee, Ruddy. Subs: Perry, McGarrity, McMurray, Canning, Kilpatrick, Hunter 
Poland: Matysiak, Kolodziejek, Helinska, Kowalczyk, Ostrowska, Sirant, Weclawek, Filipczak, Stasiak, Materek, Legowski. Subs: Piatek, Maciazka, Sikorska, Bartman, Uminska, Baczek, Tylak.