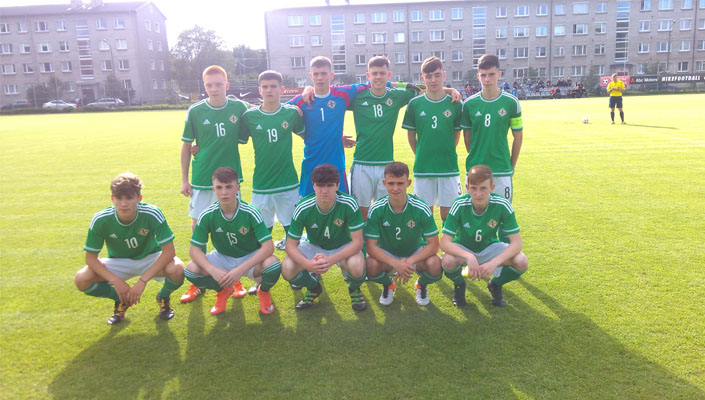 The Northern Ireland U16 team deservedly won 2-1 in their international challenge match against Estonia in Tallinn. 
However, it looked to be a different story at the start as the home team scored one of the quickest goals in international football when Frank Liblikmann netted after 22 seconds.
The visitors responded well to this early reverse and took control with Jordan McEneff and Ben Wilson dominating in midfield.  Lee O'Brien netted with a close range header but his effort was disallowed for offside and Wilson rattled the bar from 20 yards.
On 28 minutes the equaliser duly arrived when a neat interpassing attack involving O'Brien, Wilson and Connor Farrelly carved open the home defence leaving McEneff with the simple task of slotting the ball past the Estonian keeper.
Estonia came more into the game after the break but rarely troubled the Northern Ireland defence.  Barney McKeown missed from close range and Paul McAdorey volleyed over when well placed as Northern Ireland continued to dominate.
The winning goal came after 65 minutes when a corner on  the right by Jamie Glover was deflected into his own net by Estonian defender Kristjan Pelt under pressure from Kian McGarvey.
FULL-TIME: Estonia 1-2 Northern Ireland
Northern Ireland Team
Paul McLaughlin, Jake Corbett, Jack Conlon, Barney McKeown, Daniel Smith, Jordan McEneff (c), Ben Wilson, Lee O'Brien, Sean og Gallagher, Callum Ferris , Connor Farrelly
Substitutes:
Connor Hitchen replaced McLaughlin (40 minutes)
Jamie Glover replaced O'Brien (47 minutes)
Kian McGarvey replaced Smith (47 minutes
0George Curran replaced Ferris (47 minutes)
Mal Smith replaced Farrelly (61 minutes)
Ruairi O'Hare replaced McKeown (61 minutes)