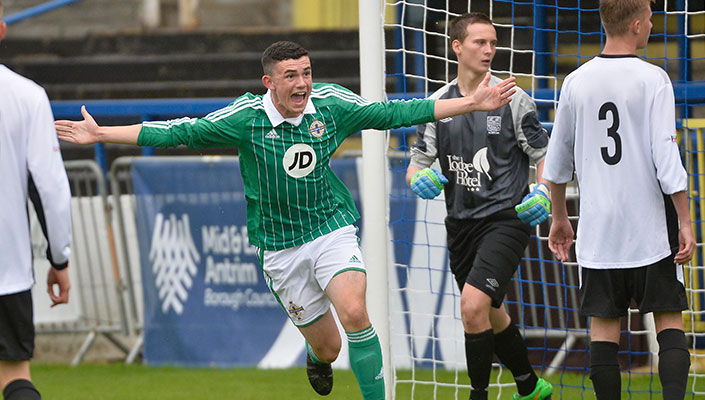 Players from Club NI enjoyed an action-packed week at the SuperCup NI tournament.
While O'Higgins from Chile and African side Right To Dream were securing the overall Premier and Junior titles respectively at the weekend, the Club NI 2002s were reflecting on a great but tough experience.
A squad of players from the Irish FA's elite performance programme competed in the Junior section (effectively U14s) of what was formerly the Milk Cup.
Their first game was against Sheffield United. Despite losing 3-0, they acquitted themselves well. After a nervous start they fell behind in the first half, but after that they created a handful of chances before conceding twice after the break.
It was a great experience for the boys who were playing a year up - and in some cases two years - and they took a lot of positives from the game.
The Club NI boys put in a good performance in difficult conditions against Co Down in their second group game.
After a bright start they took the lead through Charlie White. They continued to press and were unlucky not to score again through Aaron Brown and Domnic Dunn before Co Down scored an equaliser in the closing stages of the first half.
The second half was pretty even before Co Down scored a second – it proved to be the winner - with 10 minutes to go.
The boys continued to press and were unlucky not to get a share of the spoils late on when Connor Bradley went close.
In their third and final group game Club NI enjoyed a hard fought 2-1 win against Co Donegal.
A cross from Dylan Boyle was headed home by Aaron Brown to give them an early lead.
Ben Wylie almost doubled the lead and his near miss sparked Donegal into action and they produced an equaliser.
The game was settled when a mix-up in the Co Donegal defence resulted in an unfortunate own goal.
Club NI's overall record in the group - one win and two defeats - meant they progressed to the Salver trophy section within the tournament.
They took on North Dublin SL in the semi-finals. It turned out be an entertaining game. Chris McKee scored twice for Club NI but North Dublin SL scored three to book their place in the final.
Their fifth and final game saw them come up against Co Donegal again in the Salver third and fourth place play-off.
At the final whistle the game was tied at one apiece. It meant the boys ended the week with a penalty shoot-out. And they ran out 5-4 winners on spot kicks.
According to their coaches, the Club NI side had a fantastic week competing in the prestigious tournament on Northern Ireland's North Coast and they learned a lot from the experience.