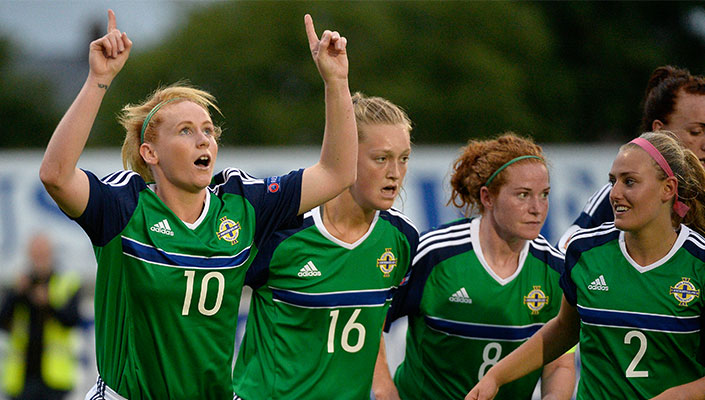 Northern Ireland put in a valiant display to earn a 1-1 draw against the Czech Republic in their UEFA Women's Euro2017 qualifier at Mourneview Park.
A 55th minute penalty from Rachel Furness made sure the hosts would leave with a well deserved point after a first half opener from Sitka Chlastakova.
The Czech Republic had the better of the opening ten minutes with two corners that tested keeper Jacqueline Burns but Northern Ireland replied with a corner routine of their own which landed to Furness whose effort was blocked when looking destined for the back of the net. 
The hosts would come close once again from a set piece as a cross from Kerry Montgomery just evaded the head of defender Julie Nelson.
On 35 minutes the Czech Republic took the lead in unfortunate circumstances as what seemed to be a cross from Sitka Chlastakova looped over the head of keeper Burns and into the top corner.
The second half started positively as Northern Ireland increased the tempo in search of an equaliser, which would arrive on 55 minutes.
Furness powered her way into the box and was fouled under pressure from Petra Bartonova, but she wouldn't be denied her goal as she coolly tucked home the penalty to level the scores. 
The Sunderland player didn't want to settle for a draw as she pushed Northern Ireland forward and her effort on 74 minutes stung the palms of Czech Republic keeper Barbora Votikova. 
As both sides went in search of the win with a draw not helping either side, Captain Marissa Callaghan had space on the left but her effort across goal was well matched as Votikova pulled off another good stop.
It finished 1-1 with their next UEFA Women's Euro2017 qualifier on September 16th when they welcome Italy. 
Northern Ireland: Burns, Newborough, Foy, McFadden, Nelson, Hutton, Sherwood, Callaghan (c), Montgomery, Furness, McGuiness. Subs: McKenna, McRoberts, Rafferty, McMaster, Wade, Connolly, Bassett.
Czech Republic: Votikova, Bertholdova, Bartonova, martinkova, J.Sedlackova, N.Sedlackova, Starova, Cahynova, Vystejnova, Necidova, Chlastakova. Subs: Bednankova, Jurackova, Dlaskova, Buzkova, Dedinova, Masova.