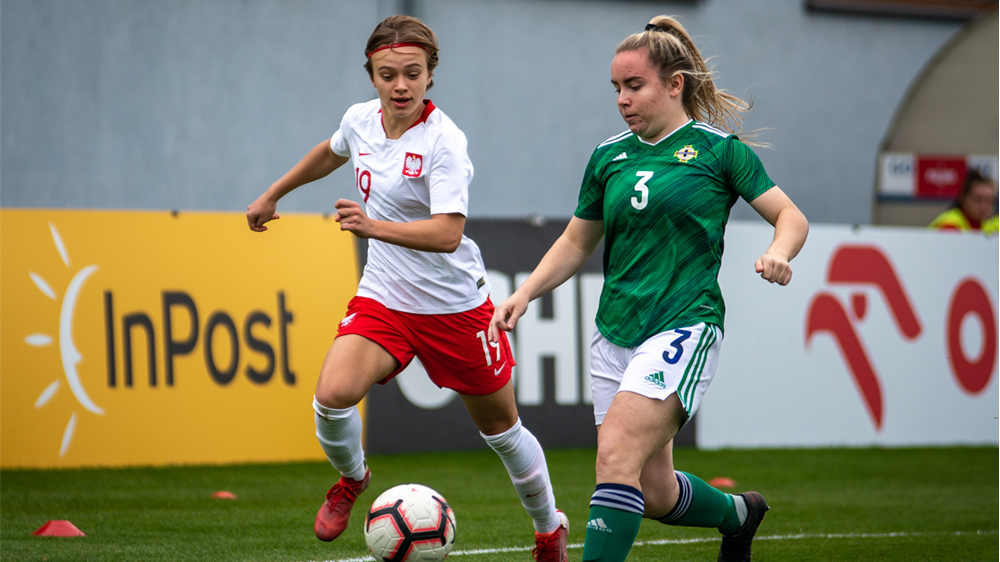 Northern Ireland's WU19s were defeated by Poland today in their final game in stage one of the qualifiers for UEFA WU19 Euro 2023.
After defeats to France and Republic of Ireland in their opening two games in League A Group 5, Northern Ireland had to win against the Poles to avoid dropping to League 2 for the second set of qualifiers next spring.
But hosts Poland, who lost to the French and drew with the Republic in their first two games in the four-team mini tournament, proved too strong at the Plewiska Stadium in Plewiska and ran out 8-0 winners.
The first chance of the game saw Northern Ireland striker Emily Reid's scooped shot comfortably collected by Polish keeper Kinga Seweryn.
And Poland took the lead in the third minute when striker Natalia Rohn's speculative overhead kick dropped into the net.
Three minutes later Northern Ireland keeper Rachael Norney made a fine stop from midfielder Martyna Gasiorek's low drive.
Poland winger Nadia Krezyman blasted a free-kick inches over the bar before Northern Ireland midfielder Naomi McLaughlin slipped past a couple of markers just outside the area and let fly, however her shot drifted wide.
Norney was quick off her line to grab the ball as attacking midfielder Magdalena Sobal, who was a constant threat, got in behind the Northern Ireland defence.
On 19 minutes Rohn got her second of the game with a powerful header at the front post. And then Sobal blasted in Poland's third from the edge of the area in the 28th minute.
Keri Halliday nicked the ball off a Polish defender and drilled in a shot which was held by Seweryn.
Sobal put the Poles four up. She produced a strong run towards the area and clipped the ball past Norney into the corner of the net.
And Sobal had another effort on goal just before half-time, however Norney was equal to it.
Just after the break Sobal completed her hat-trick when she clipped home a low cross from Rohn at the back post.
Poland went six up on 54 minutes when midfielder Oliwia Katowicz fired a shot into the top corner from the edge of the area.
Halliday, who kept plugging away in the game, put a shot wide of the target before Northern Ireland captain Ellie-Mae Dickson hit the side netting with a cross-shot.
Poland continued to push forward, however the Northern Ireland defence managed to keep them at bay.
On 82 minutes Norney thwarted Polish substitute Martyna Duchnowska as she twisted and turned inside the area, however she could not stop Duchnowska two minutes later when she slotted the ball into the net from close range to make it 7-0.
As the full-time whistle approached Duchnowska pounced on a loose ball and slotted it into the net for her second goal of the match.
Afterwards interim WU19s head coach Aaron Hughes said he was proud of his players despite the result.
He pointed out: "It was a tough game for us. Sometimes you just have to hold your hands up and say you were beaten by the better side. There's no doubt they are ahead of us in terms of development. They were strong physically and technically very good.
"However, I was pleased with the character shown by our players. Despite the adversity they kept going and did not give up. They put everything into it. I was proud of how they went about the game. They were still trying to play and still went looking for the ball.
"It was good for our girls to see the standard (of play) they will come up against at the top level, and it's important for them to learn from it."
Northern Ireland WU19s: Rachael Norney, Sarah Jane McMaster, Grace McKimm, Sarah Tweedie, Rebecca Magee, Molly Loughran, Keri Halliday, Rhyleigh Marks, Emily Reid, Naomi McLaughlin, Ellie-Mae Dickson. Substitutes: (used) Ella Haughey, Helen Parker, Maeve McConaghy, Aimee Neal, Erin Montgomery; (unused) Erin McAllister (GK).
Poland WU19s: Kinga Seweryn, Milena Kazanowska, Julia Jedrzejewska, Kinga Bieszczad, Martyna Cygan (captain), Martyna Gasiorek, Oliwia Katowicz, Oliwia Domin, Natalia Rohn, Magdalena Sobal, Nadia Krezyman. Substitutes: Izabela Sas (GK), Luiza Kozielska, Oliwia Baldyga, Julia Pietakiewicz, Paulina Piksa, Martyna Duchnowska, Magdalena Dabrowska, Patrycja Kozarzewsk, Urszula Onoszko.