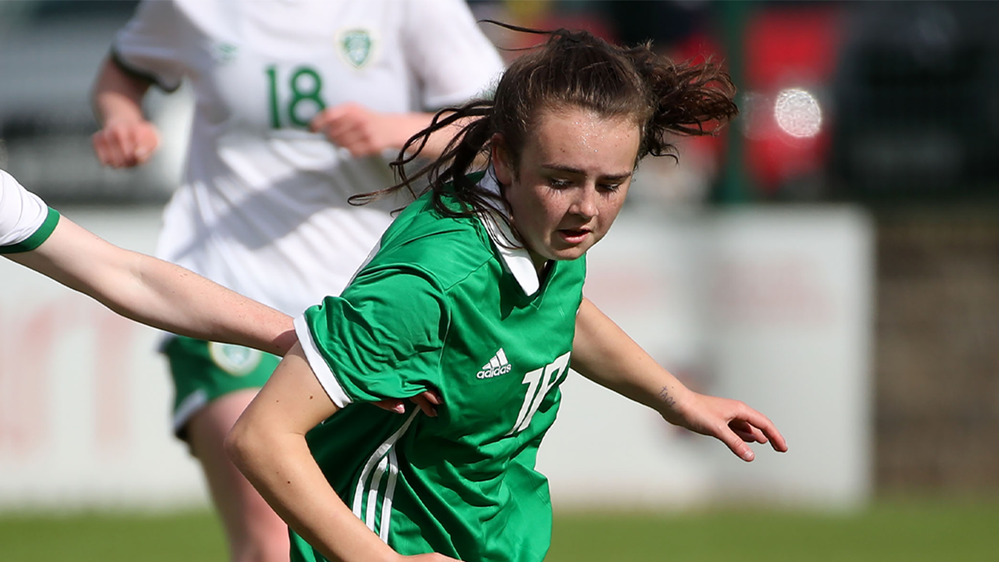 Northern Ireland Women's Under-19 side lost to France in stage one of the qualifiers for UEFA WU19 Euro 2023.
The WU19s are in Poland this week competing in the Group A5 four-team mini tournament along with the French, Republic of Ireland and the Poles.
Game one saw them take on France at the Swarzedz Stadium in Swarzedz this morning with the French running out out 5-1 winners.
Northern Ireland goalkeeper Rachael Norney produced a string of fine saves in a tough encounter.
Despite the scoreline, Northern Ireland equipped themselves well  and opened the scoring after just three minutes through captain Keri Halliday.
The French responded with Thiniba Samoura's shot blocked and Maelle Seguin put an effort wide before Norney saved a Lea Bourgain strike.
Samoura and Seguin then missed further chances for the French before Northern Ireland striker Emily Reid fired an effort past the upright.
The French found a way past the Northern Ireland defence in the 39th minute when Chloe Neller fed Haugou and she tucked the ball home.
Northern Ireland missed a gilt edged chance just before half time and went in level at the break.
Early in the second half Sylla hit the woodwork from a Haelewyn corner before firing the rebound home to make it 2-1.
Goal number three for Les Bleues came on 62 minutes. Haelewyn teed up Haugou and the young Lille forward steered the ball past Norney for her second goal of the game.
Norney saved from France substitute Louna Ribadeira on two occasions before pushing away a free-kick from another French sub, Oceane Hurtre. And then she thwarted Ribadeira once more.
Halliday put a shot wide down the other end before France netted two goals in added time courtesy of Hurtre and a Ribadeira penalty. 
Northern Ireland's second game in the group is against the Republic on Friday at the same venue (10am UK time start).
And the final game for the WU19s in Group A5 is set to be against hosts Poland next Monday (10 October) at the Plewiska Stadium in Plewiska. Kick-off will be at 1pm UK time.
Northern Ireland WU19s: Rachael Norney, Ella Haughey, Sarah Tweedie, Mikayla Wildgoose, Aimee Neal, Rhyleigh Marks, Naomi McLaughlin, Keri Halliday (captain), Emily Reid, Grace McKimm, Aoibhe O'Neill. Substitutes: (used) Ellie-Mae Dickson, Eve Reilly, Sarah Jane McMaster, Helen Parker, Erin Montgomery; (unused) Erin McAllister (GK), Rebecca Magee, Maeve McConaghy, Molly Loughran.
France WU19s: Oceane Toussaint (GK), Marion Haelewyn, Galina Gras, Kysha Sylla (captain), Thiniba Samoura, Maelle Seguin, Lea Bourgain, Madeleine Yetna, Pauline Haugou, Chloe Neller, Airine Fontaine. Substitutes: Jade Dumas (GK), Louna Ribadeira, Jade Rastocle, Oceane Hurtre, Faustine Bataillard, Pauline Sierra, Coralie Delacellery, Ninon Barnoin, Melween Ndongala.