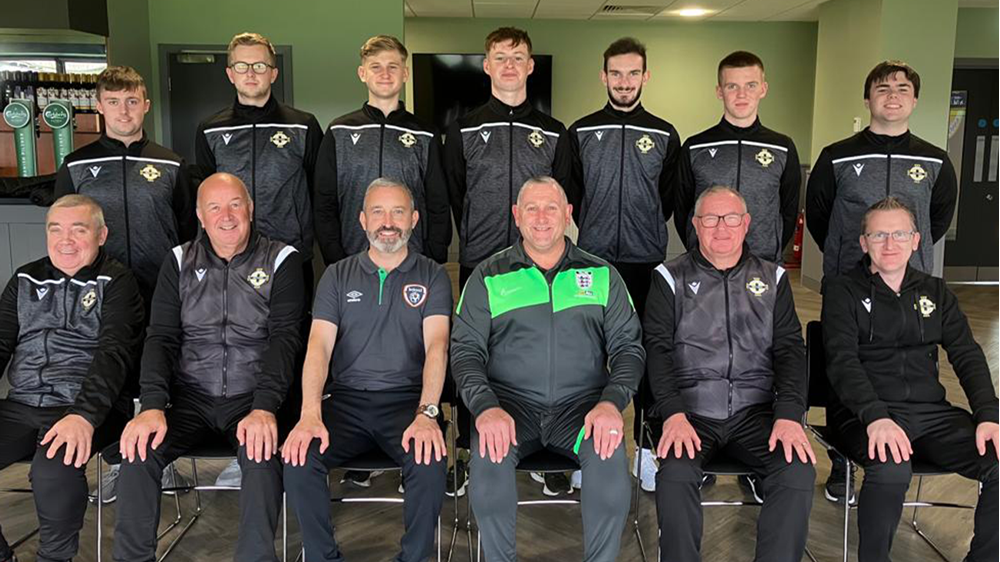 Match officials from across the UK and Ireland gathered at the National Football Stadium at Windsor Park to take part in a seminar at the weekend.
Hosted by the Irish FA's Refereeing Department, the event had a packed agenda and focused on the wellbeing of match officials, with participants benefitting from a professional health check whilst on site.
Irish FA Head of Refereeing Trevor Moutray said: "These events are here to help and support our match officials community and we hope that the information and expertise on offer, which comes in a variety of forms, can help maintain their resilience over what is a long season with lots of games to cover."
A series of presentations were delivered covering Laws of the Game and the use of analysts before there was a panel discussion featuring Professional Game Match Officials Limited (PGMOL) Assistant Referees coach Steve Child, FA Centre of Excellence coach Andy Himsworth, FAI School of Excellence coach Ian Stokes and FAI Assistant Referees coach Martin Maloney.  
Child, one of the Premier League's most experienced assistant referees and who officiated the 2012 Olympics football final and the 2015 UEFA Europa League final, said: "It was great to present to the Northern Ireland Premiership Assistant Referees.
"We had two sessions. One was on the importance of teamwork where we discussed the four As - accepting, analysing, adjusting and advancing. The second focused on the summer ruling from IFAB and UEFA around deliberate play and deflection.
"I enjoyed the day immensely, and want to thank the Irish FA refereeing department for facilitating such an interesting and important session."
The event marked the start of a busy month for the department. As well as the monthly meeting of referee panels at NIFL, Championship and PIL levels, where clips are reviewed and assessed, the team will participate in a referees academy in the Republic of Ireland, further strengthening links and working practices between the Irish FA and FAI.
Meanwhile, NIFL officials Ben Macmaster and John Doherty have been assessed as part of their participation in the UEFA CORE (Centre of Refereeing Excellence) programme. The assessment took place during the recent NIFL Premiership game between Larne and Coleraine.