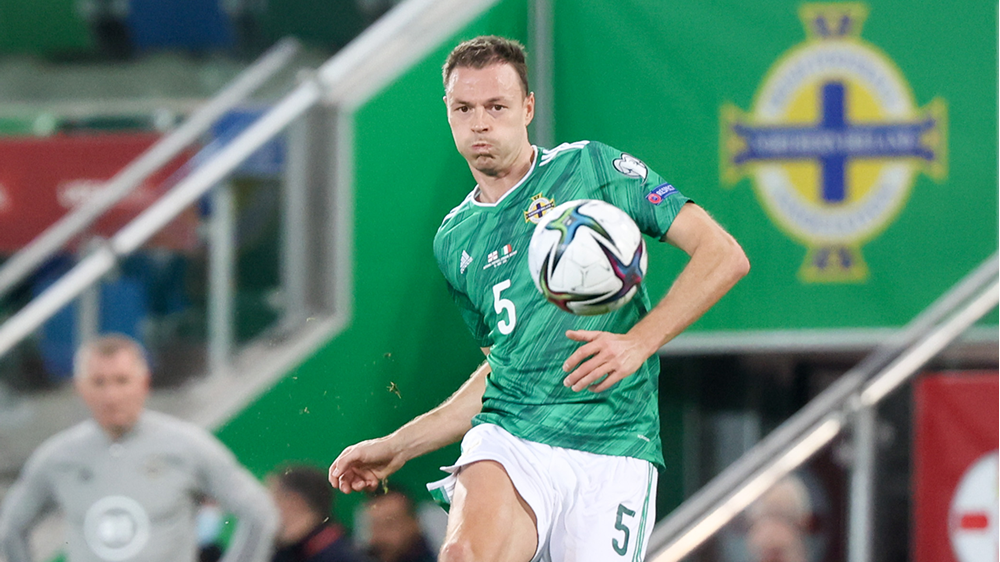 Jonny Evans emits a wry chuckle at the fact the genesis of his 100-cap international career transports him back 16 years to a typical evening out in Belfast.
A few hours earlier Northern Ireland had succumbed to a deflating 3-0 defeat to an Eidur Gudjohnsen inspired Iceland in a UEFA Euro 2008 qualifier at the old Windsor Park.
It was a low point of Lawrie Sanchez's reign as national boss - but a result that gave rise to one of the most accomplished defenders to don a green shirt. 
"It was a surprise when I first got called up to the senior squad," said Evans, who went on to make his shock Northern Ireland debut in a famous 3-2 win over Spain four days later.
"I had played for the U21s against Germany on the Friday night and was out with friends at the Odyssey, doing what young lads do on a Saturday night, when I received the call.
I was young at the time but I knew it was such a big moment for Northern Ireland and football in this country. To be only 18 and be part of such a big result was really special.
"Northern Ireland had lost 3-0 to Iceland on the Saturday afternoon. When I answered my phone, I was asked to meet up with the senior squad the following morning."
Thirty six hours after playing alongside the likes of current Glenavon defender Sean Ward and former Linfield striker Peter Thompson for the U21s, Evans was training with seasoned stars David Healy, Keith Gillespie and Aaron Hughes. 
"Everything happened so fast," he said. "It was a pretty strange feeling because I was only 18 and I didn't really know anyone in the squad."
Looking back, it's remarkable to think that Evans' only prior experience of senior football had been a league outing with Royal Antwerp, where he was on a season-long loan from parent club Manchester United, in the second tier of Belgian football.
It is equally incredible that he earned his first cap against Spain, who boasted Xavi, Raul and David Villa, at left-back, a position he had "never played before in my life".
"Tony Capaldi had played (on the left hand side of defence) in the Iceland game and I think he was struggling with an injury ahead of the Spain qualifier," said Evans.
"I'd never played left-back before, but we were doing a bit of team shape in training and I went in there for a practice game. Lawrie Sanchez must have seen something he liked.
"A few of the other lads and senior players also gave me positive feedback after a couple of the training sessions and I know they pushed for me to play. That probably helped."
The rest, as the time honoured adage goes, is history.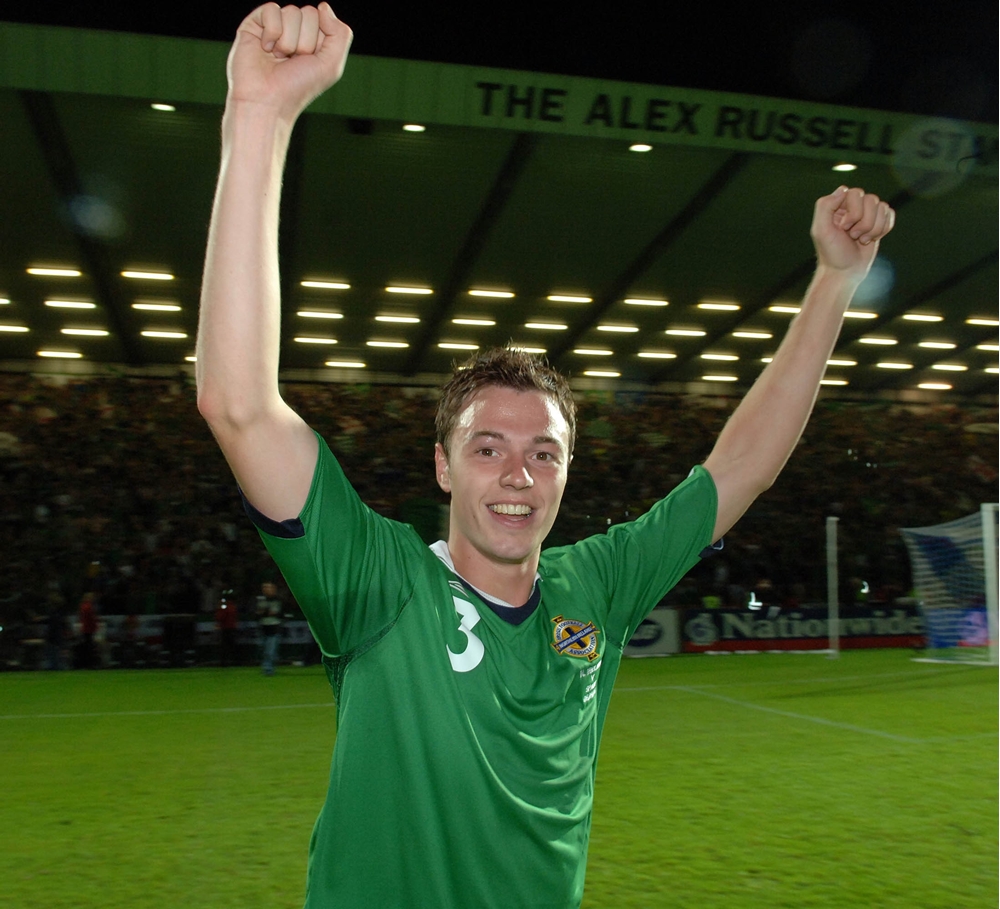 David Healy scored a stunning hat-trick, the third a feathered lob that teased and taunted the sprawling Iker Casillas before billowing the net, as Evans marked a memorable debut with a pulsating 3-2 win in south Belfast.
Memories? He has a few, some misty, others more vivid than the rest.
"I certainly remember David's goals," he smiles. "I have watched the game back numerous times and you always see something new, but I do have one or two images that stick in my mind.
"I have a vivid memory of getting a good challenge on Fernando Torres early on and making a good switch in play. Little things like that really helped me settle into the game.
"I also remember Luis Garcia, who was at Liverpool at the time, coming on for Torres in the second half and he was up against me on the right side of midfield.
"He caught me with an elbow and left me with a black eye for a week or two.. those are the kind of incidents that stay with you!"
Two words beginning with E sum up Evans' recollections of the post-match elation that greeted Belgian referee Frank De Bleeckere's full-time whistle: Ecstasy and exhaustion.
"It was an incredible feeling," he said. "I remember the Spain players walking off the pitch with their heads down and they didn't really shake anyone's hands.
"Looking back, they weren't very gracious in defeat. Being a young lad, I probably didn't take in fully what that win meant, but to make my debut and beat Spain? Incredible.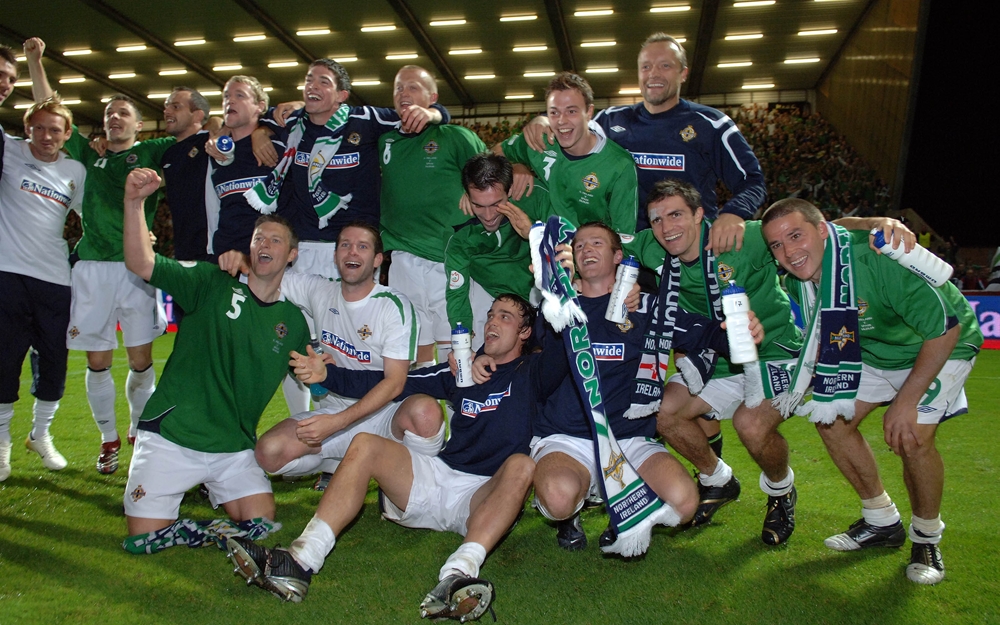 "I was young at the time but I knew it was such a big moment for Northern Ireland and football in this country. To be only 18 and be part of such a big result was really special.
"In the changing room afterwards I can just remember being absolutely exhausted. I think I took a cramp after about 70 minutes during the game, but I managed to get through it.
"The pitch back then was really heavy and boggy in places and I just remember being shattered after the game. I was wiped out but also really excited to be part of such a big result."