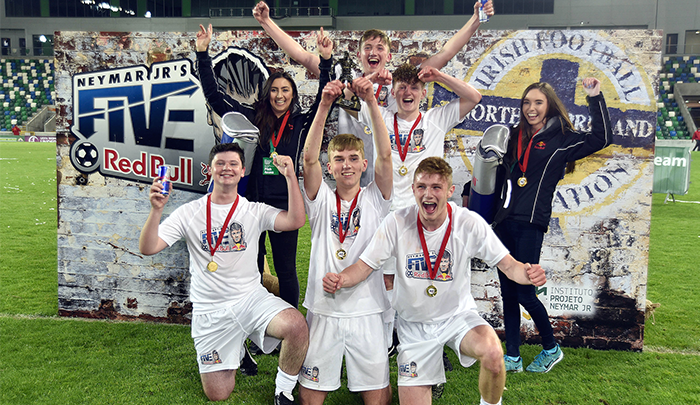 Last year's regional champions, Distillery Elite, launch the 2017 Red Bull tournament which offers local teams across the country the opportunity to compete in Brazil against worldwide opponents and meet Neymar Jr.
REGISTER NOW at NeymarJrsFive.com
Neymar Jr's Five is a fun, fast-paced and technical game that gives young footballers aged 16 to 25 years old, the opportunity to put teams of 5 to 7 players together to compete and represent Northern Ireland at the World Final in Brazil this summer.
Five-a-side teams battle it out in 10-minute matches with a twist. Every time one team scores, the opposition loses a player, which makes it fast, technical, tactical – and unique in the world of football.
This is the second edition of Neymar Jr's Five to arrive in Northern Ireland. The tournament made an instant impact in its debut year in 2016 when 5 local lads, under the name Distillery Elite, took their opportunity and made it to Rio, an experience Captain Daniel Larmour says was once in a lifetime.
"We may be from a small country but the talent here is incredible and there are many young players who could hold their own against those in Brazil. Our experience last year was phenomenal, to compete against players from all over the world in a beautiful city was a fantastic test of our skills and ridiculously fun. It was a real honour to represent everyone back home and this year is another opportunity for Northern Irish players to help put us on the global footballing map."
Last year there were more than 10,000 teams and 65,000 players in 47 countries vying for overall victory in the world's biggest five-a-side football tournament.
This time it will be bigger than ever, with regional qualifiers in 53 countries and a rule change giving more players the chance to compete, which could mean even more goals than the massive tally of 538 last year.
For the first time two over-aged players are allowed as part of each squad. Tens of thousands of players will set out with the hope of making it all the way from regional qualifiers to their national final and on to the World Final at the Instituto Projeto Neymar Jr in Praia Grande, Brazil.
The winning team from both Northern Ireland will earn a spot at the world finals in Brazil.
To participate, teams of five to seven players must register at NeymarJrsFive.com and select their preferred qualifier in either Belfast, Derry-Londonderry, Newry, Lurgan or Dungannon.
Regional qualifying rounds will start early March. The national final will be held at the end of April with details to be announced in the coming weeks.
To celebrate the Neymar Jr's Five tournament, Red Bull has produced a limited edition Red Bull Neymar can, available in outlets nationwide.
"It's a fun, energetic and tactical game," said Neymar Jr, who grew up playing the same kind of fast-paced five-a-side football. "It's the kind of football I've always loved to play and this time we play it with a special twist to it: the five-player teams lose one player each time they concede a goal until there are no players left, or the 10-minute game ends."