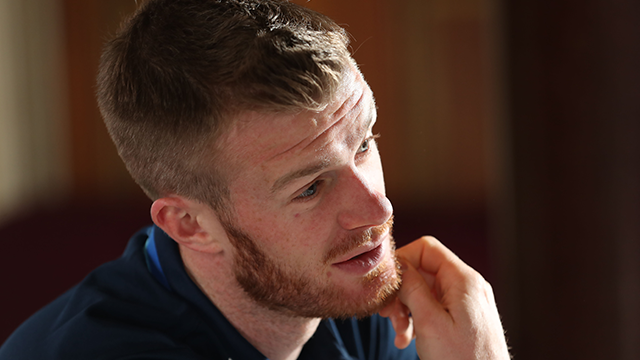 Chris Brunt has warned Norway will be a tough nut to crack in this weekend's World Cup 2018 qualifier. 
The Northern Ireland midfielder told a press conference today there are "no easy games" in international football.
And he insisted the Norway game on Sunday at the National Football Stadium at Windsor Park (7.45pm start) will be "tough".
Although the Norwegians have only taken three points from a possible 12 in Qualifying Group C to date, he pointed out Lars Lagerback, their new manager, has lots of experience on the international stage. 
"They will be well drilled and well organised and they will know what we are about. It will be tough and we have got to be careful," he said. 
On a personal level the midfielder revealed he is "feeling good and feeling strong" since his return from the knee injury which saw him miss out on Euro 2016.
He said he enjoyed his comeback for Northern Ireland - the 4-0 win over Azerbaijan back in the autumn in which he played a key role.
Brunt said it was important to get the victory against Azerbaijan to follow on from the draw against the Czechs and the win against San Marino.
After missing out on an appearance at a European Championship finals, the midfielder admitted "it would be nice" to get to a major finals as a player, although he noted it is more difficult to get to a World Cup finals tournament.
He believes the Northern Ireland squad have carried on pretty much seamlessly from the Euros – helped by the fact there have been very few changes in personnel. 
"We have that bit more experience thanks to the last campaign and playing at the European Championship finals. We have had a good start to the current campaign… and we still have everything to play for," he noted.
At the press conference in Carton House, the West Bromwich Albion player further revealed Michael O'Neill approaches each game individually and neither he nor the players look too far ahead. 
Brunt added: "We've got the confidence to go out and perform, especially at home. I think teams fear coming here now.
"We have been consistently good in recent years. We have a good group and good staff and we are winning games."
He also believes it "helps" Northern Ireland that the three West Brom players in the squad – Brunt, Gareth McAuley and Jonny Evans – play together week in, week out in the Premier League. "We tend to know what each person is going to do or what they are not going to do," he said.