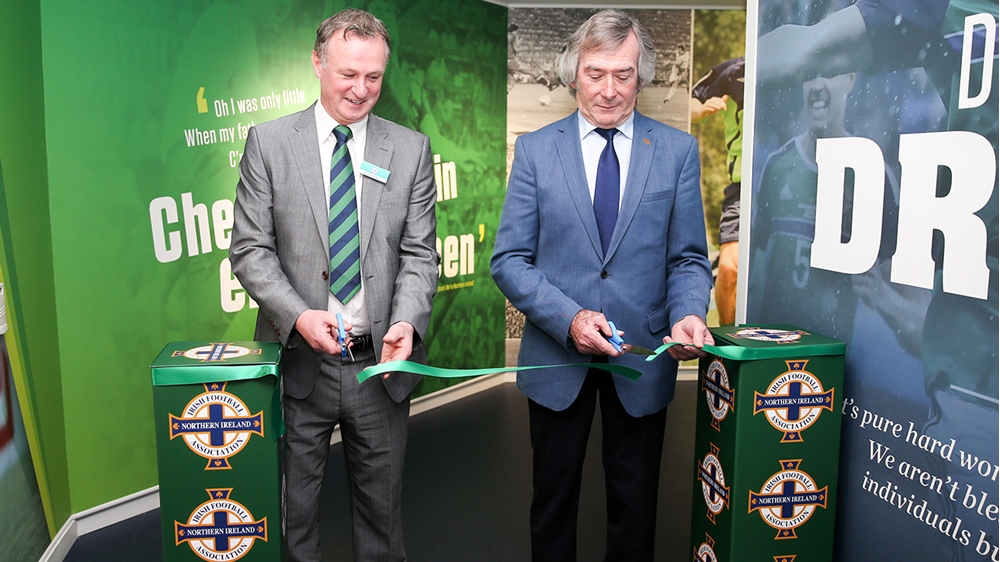 The Irish Football Association's new Education and Heritage Centre was officially opened today.
Northern Ireland manager Michael O'Neill and Northern Ireland goalkeeping legend Pat Jennings cut the ribbon at the centre, which is housed within the National Football Stadium at Windsor Park in Belfast.
The facility tells the unique story of Northern Ireland football using a variety of media, interactive displays and key artefacts from the 1880s to the present day.
Visitors are able to relive the atmosphere of famous nights, gain insights into the drama on and off the pitch and feel the rush of emotions shared by everyone inside the stadium - win, lose or draw.

The new centre also showcases the Irish FA's vision of promoting, fostering and developing 'football for all' in Northern Ireland.
Irish FA President David Martin said: "The creation of our Education and Heritage Centre at the National Football Stadium presents a fantastic opportunity for the Irish Football Association to showcase much of the 136-year history of the game here. 
"From the Irish Challenge Cup and its first winners Moyola Park FC through to the present day and the exploits of our national team at Euro 2016, there is nostalgic coverage. The British Championship Trophy has remained in Northern Ireland's possession as we were the last winners in 1984 and it is on display.
"I would urge our fans, and even those with just a passing interest in the game, to visit the centre. I am confident they will be impressed."
Northern Ireland have achieved so much on the global stage and the new centre covers it all.
As the world's fourth oldest governing body, the story starts at humble beginnings in 1880 and weaves its way through three appearances at World Cup finals to the country's first appearance at a European Championship finals in France last summer.
The centre enables fans to relive their favourite moments following Northern Ireland, whether it was that goal in Spain in 1982, the famous win over England in 2005 or Gareth McAuley's header against Ukraine in Lyon.
Visitors are also able to see behind the scenes during an official stadium tour and pop into the new JD store at the stadium, which is due to open later this week.
Education and Heritage Centre Manager Stephen Garrett said: "This centre will inspire young boys and girls across Northern Ireland to dream of wearing the green shirt.
"From schoolchildren to grandparents, people will leave the stadium having understood the achievements of football in Northern Ireland, feeling a sense of pride at our country's unique contribution to the world's number one sport and having enjoyed a taste of the beautiful game."