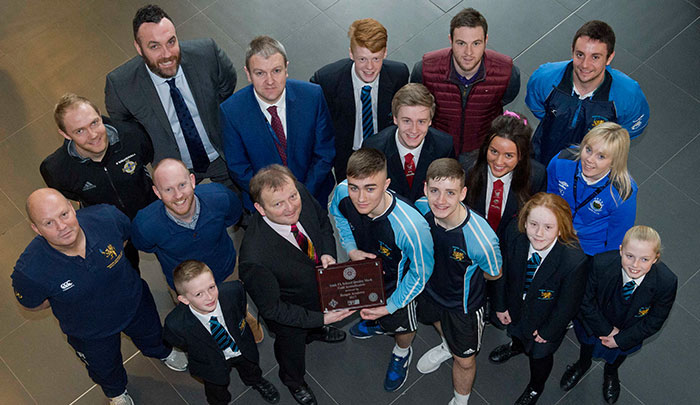 The Irish Football Association praised the school for the heritage of quality football it has cultivated and its continued innovation and commitment to grassroots football. 
The Academy was the first school in the history of the North Down League to win in all five age groups in 2016 and has enjoyed consistent success in progressing talented players into national teams.
Currently Alex McIlmail and Jack Henderson are on the Northern Ireland Under 16 and Under 18 squads respectively and the Academy has always been proud of the number of pupils who have successfully progressed into professional and or national football teams such as Josh Magennis, Ashley Hutton and Jamie Mulgrew to name but a few!
Head of PE, Stuart Donald said;
"Feedback from the Irish FA recognised our local league success, the school's impressive facilities and the development of a strong girls' football culture – thriving under the expertise of Michelle Crawford (a classroom assistant in the Academy and Linfield Ladies coach).  We really are benefitting from our collaboration with the Irish FA as we have put the new Futsal goals and balls to good use as we develop the technical and decision making skills required in Futsal – a new form of football introduced in PE lessons.  We are also carefully planning how best to spend the £500 voucher for precision sports equipment that comes with the gold award status."
Principal, Matthew Pitts said; 
"Today has been a fabulous celebration of the commitment and most importantly the enjoyment of football in our school.  I am so proud that The Academy is the province's first school to achieve the Irish FA's prestigious Gold Quality Mark and the plaque will be displayed as a symbol of our passion for the beautiful game."
Irish FA Schools and Futsal Manager, Jonathan Michael said;
"We are very proud that Bangor Academy have been the first of many schools who will complete the School Quality Mark.  They have a strong background in schools football and are playing their part in developing young international players both boys and girls.  The structures and programmes that Bangor Academy have in place are an example of best practice for other schools striving to achieve the School Quality Mark award". 
The School Quality Mark is part of the Let Them Play strategy which looks to promote and develop school football in Northern Ireland. 
The accreditation seeks to revamp our schools football development work and rebuild connection that has been lost to schools or alternatively engage schools that don't traditionally play football. 
Through School Quality Mark it is hoped to maximise the number of school children exercising and playing football, enhance grassroots football, and build capacity in schools for football to flourish.