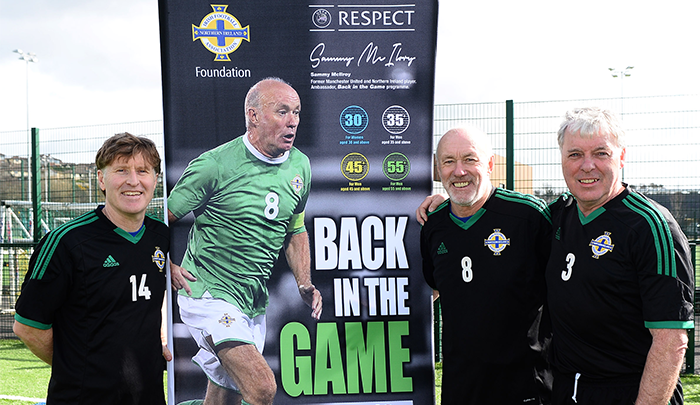 When most footballers get to a certain age they rather reluctantly accept that perhaps their playing days are over!
This is not the case for the group of former players taking part in the 'Back In The Game' programme organised by the Irish Football Association.
Former Northern Ireland International Sammy McIlroy made a special guest appearance at a regional festival in Newtownards to show his support for the initiative, pulling on the green jersey alongside fellow former teammates Mal Donaghy and Ian Stewart. 
The event welcomed over 200 participants to Londonderry Park for a morning of football and fun with the teams playing small-sided games in a non-competitive environment.
The initiative aims to use football as a tool to provide long term opportunities for men and women of 35+, 45+ and 55+ years of age to re-engage with football in their local communities. The programme is made up of a mixture of players who are still working and retired from employment, some of whom have played at Irish League level.
To conclude the sessions, everyone meets in the upstairs lounge for tea/coffee and an opportunity to have a chat, make new friends, re-engage with old ones and discuss their footballing experience.
It is during this informal setting that people are given the opportunity to receive information on coach education and volunteering opportunities, social media training and also mental health awareness workshops.
The objectives are to increase physical activity and provide social opportunities to those who may feel vulnerable, isolated, are suffering from mental health issues, long term unemployed or socially deprived.
Ian Getty, Irish FA coordinator, is organising the 10 week programme at the Sports Hut at Galgorm, Ballymena comments, "The reason Ballymena was selected for this programme is because we now find ourselves in an area of high unemployment. With this comes the risk of mental health issues, redundancy and anxiety over future employment.  
"I could never have imagined the response we have received with this programme, as we have 40 people coming along on Tuesday nights from 5.00pm until 8.00pm. These are people who just love playing football against players in their own age group. Everyone realises that they are now leading a healthier lifestyle and the social integration is just fantastic".
A National Back In The Game Festival, involving all regions will be taking place in the summer. For more information please contact Malcolm Roberts (malcolm.roberts@irishfa.com).
Back In The Game - Newtownards