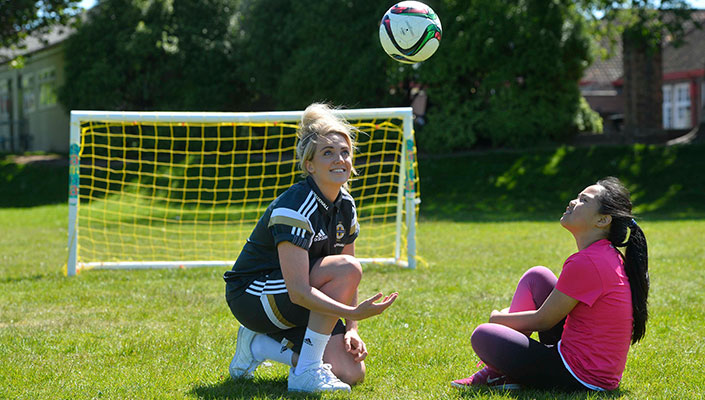 To celebrate the Northern Ireland International Women's team playing a European Qualifier match against Georgia on Friday 3rd June, a number of events were held prior to the main event.
On Wednesday night the Girl's Regional Excellence Squads had the opportunity to visit the ladies squad at the Stormont Hotel and ask questions which were answered by the squad on how to make them the best player they can be. Lots of girls were eager and showed up to the hotel and as a result, it was a very successful night.
On Thursday, a tournament was held in Strandtown Primary School with former international player Wendy Bailie. Over 160 girls from all different schools from P6 to P7 enjoyed football activities prior to the Friday night game. After the tournament had taken place, some of the Northern Ireland internationals came to the fun day for a Question & Answer session with the girls who took part.
On Friday night before the game, a fan zone was held at Waterworks, Belfast. Here, an U9 tournament took place alongside other fun activities. Many people showed up to the fan zone and then after they had their fun, they walked to the back of Solitude through the Waterworks where the game was taking place.
The match ended successfully with the Northern Ireland girls winning 4-0. Simone Magill opened the scoring by scoring 11 seconds into the first half, breaking all records in all women's international football. Marissa Callaghan then slotted home two goals at her home ground and in the remaining few minutes, Rachel Furness scored a late header to seal the win.
What a week!
Author: Megan Bell