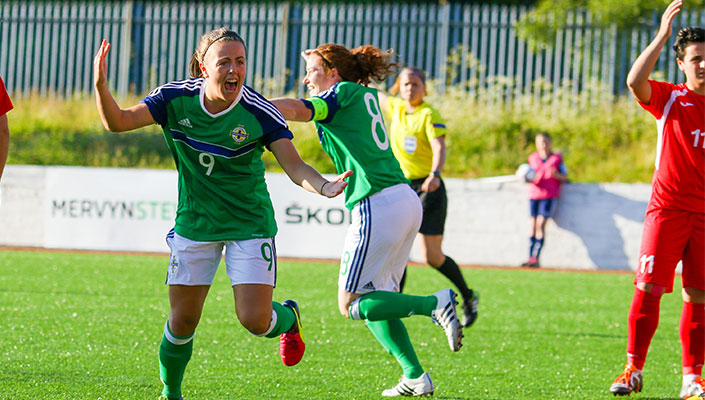 Northern Ireland claimed their second win of the UEFA Women Euro2017 qualifying campaign with a 4-0 win against Georgia at Solitude.
A goal after just 11 seconds set the tone for the evening from Simone Magill, with two strikes from captain Marissa Callaghan and a late goal from Rachel Furness leading them to a convincing victory. 
They got off to the best imaginable start & one that might just be a record breaker. From kick off, the ball was fed to Avila Bergin who crossed to an unmarked Magill to put the hosts 1-0 up after just 11 seconds!
And it was just after 20 minutes that Northern Ireland would grab their second in senstational style, but for different reasons. Captain Callaghan picked up the ball 20 yards out and smashed a shot into the top corner to double their lead.
With five minutes till half time, it was once again the captain who would get her name on the scoresheet. Her low strike left Georgia keeper Tamar Nadirashvili flat footed and gave Northern Ireland a 3-0 lead at half time.
Georgia would get their best chance to get on the scoresheet early in the second half as defensive mixup allowed the opportunity to lob Northern Ireland keeper Jacqueline Burns but Julie Nelson cleared the effort off the line.
Northern Ireland continued to control the game with Nelson having her header saved after 75 minutes. Rachel Furness would also come close but her effort bounced back off the post and away.
That wouldn't be enough for Furness as she struck late on to wrap up a comprehensive 4-0 victory for the women. 
It finished 4-0 and the win leaves Northern Ireland on six points in Group Six, level with the Czech Republic who they face on Tuesday night at the Stadion Strelnice.
Northern Ireland: Burns, Lindsay, Foy, Hutton, Nelson, McFadden, Bergin, Callaghan © (90), Magill (81), Furness, McGuiness (78) Subs: Adams, Kelly, Rafferty, Sherwood (81), McMaster (90), Wade (78) Newborough.
Georgia: Nadirashvili, Kvelidze, Chkhartishvili, Kochlamazashvili, Bakradze, Cheminava, Tchkonia, Gabelia ©, Danelia (81), Tatuashvili, Sutidze. Subs: Sukhashvili, Pasikashvili (81), Sturua, Zakaidze, Kvaliashvili, Tevdoradze, Basiladze.