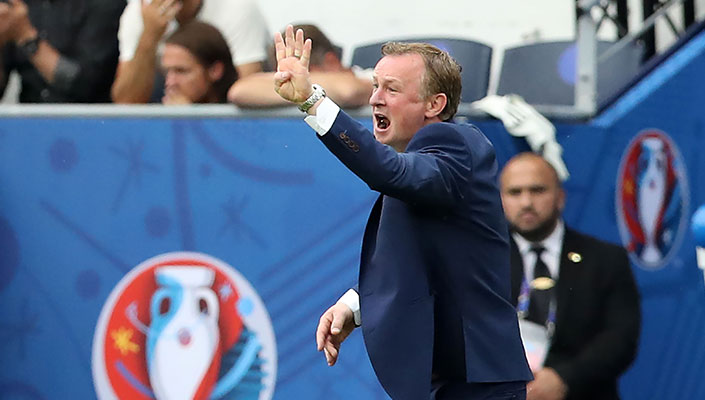 Northern Ireland 

manager

 Michael O'Neill is proud of how his side completed their UEFA Euro2016 Group C fixtures after the 1-0 defeat to Germany at the Parc des Princes in Paris. 




The 1-0 defeat, thanks to a goal from striker Mario Gomez, means Northern Ireland will be waiting to see if they progress from their group as one of four best placed third placed teams. 

When asked about the round of 16, O'Neill said: "Well I think we know that it would take a team with three points and a positive goal average to knock us out really, so that's a big ask for some of the teams given the situation, who still have to play and the nature of their games. I've always said, the way our fixtures fell, that the first two games would give us the best opportunity."

And looking back on the game against the World Champions, O'Neill was proud of his side considering the pressure they were put under. He said: "Let's be honest, we were playing the best team in the world internationally and we knew it would be very, very difficult.

"I thought we started the game quite well, although we conceded opportunities and Michael had to make three great saves for us early in the game. I think it knocked our confidence a little bit, we got penned in a little bit.

"They're brilliant at penning you in, they move the ball so quickly across the midfield and their players are so intelligent with their movement. But you know, having gone behind in the game we stuck at it, and I thought in the second half we were better and we pressed the game a bit better. As I say, we're not delighted that we lost the game, but we're delighted having lost the game that it was only 1-0.

And on looking back at this campaign so far, the manager believes they have shown enough to get to the knockout stages: "For us to come into this competition, to have lost just the two games against Poland and Germany, who are both exceptionally good teams, to have lost to them narrowly 1-0, we take a lot from that. But equally, as I say, we want the opportunity to go to the knockout stages."