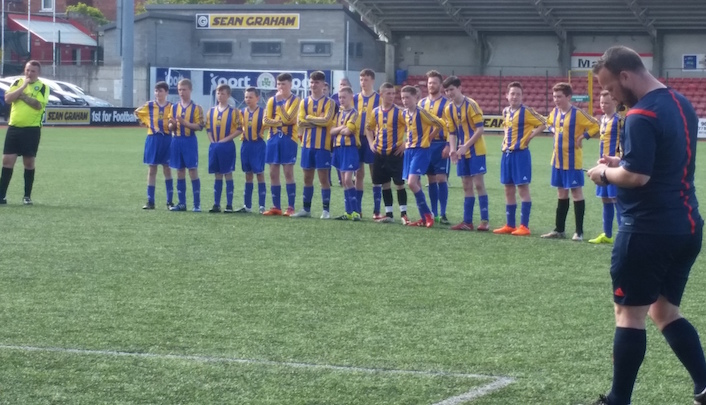 Limestone United Captain Declan McDaid claimed the Man of the Match award after the Limestone United Cross Community Football Team secured a 6 - 2 victory against Sparta Belfast at Solitude on Sunday 15th May 2016.
Limestone went ahead with 2 early goals, but Sparta came back into the match before Limestone managed to push on for victory. It was great to see both teams attend with strong squads with the match played in a friendly atmosphere with the Northern Ireland v Poland match at Euro 2016 only weeks away.
Before the senior match, the Limestone Juniors played an 11 a side match against St Teresa Youth Centre from the Glen Road in Belfast. St Teresa's secured the win after a competitive 4 - 4 draw.
A young team from St Teresa was shown great respect from Limestone United, and as a result further contact is planned between the Teams to develop positive relationships through Football.
Some of the Limestone Junior players have shown great progress and they will now play in the senior squad for forthcoming matches. The Prevent and Deter approach for positive youth engagement and intervention continues to make excellent progress through the Limestone United model, made possible through the support of the Irish Football Association.
Through the programme's partnership with Arsenal Community Hub, Limestone United are hoping to move to the next phase called Promote and Develop after the prevention work has been completed. The Junior team was captained by the two young leaders who recently visited Arsenal, bringing back their learning to support this ongoing work and continue their own personal development.
To find out more about this programme, or for information on implementing this model in your own area, please contact Claire Adams on claire.adams@irishfa.com.