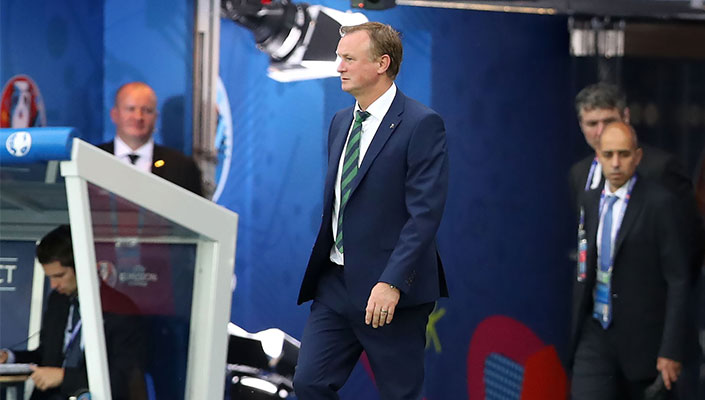 Northern Ireland manager Michael O'Neill has reflected on what he described as a "very cruel" defeat to Wales in the UEFA Euro2016 round of 16.
An own goal from Gareth McAuley knocked Northern Ireland out but O'Neill believes over the 90 minutes his side were the better team, he said: "I felt it was a very tight game, I thought we edged the game, we were the better team for long periods of the game. 
"It was a very cruel way to lose the game to be honest. I certainly didn't think that over 90 minutes we deserved to lose the game.
"We did everything to try and get back into the game, and as I say it was just unfortunate. The overriding emotion is obviously disappointment, I feel we deserved at least for it to go to extra time or at least to be in the last 8, but that hasn't been the case." 
And looking back on an incredible achievement for himself and the country, O'Neill said: "It was our first tournament for 30 years so it was always going to be a positive experience, how we performed here in a very, very difficult group was commendable. I think we came out of that with a lot of pride. 
"But today we came up against a team with a couple of world class players in their ranks, yet we stifled them for the majority of the game, and it gave us a platform to go and try and win the game ourselves.
"We lost the game to a cruel own-goal, and it's something we have to live with, but it's something we have to learn from in terms of the experience of the whole tournament."