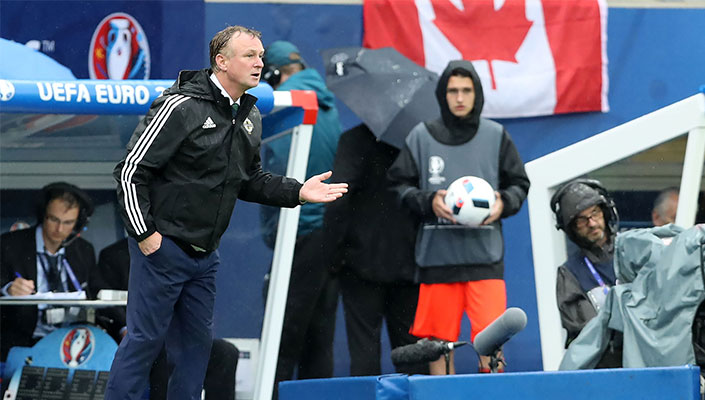 Michael O'Neill has praised his players as they claimed their first win at a UEFA European Championships at the Stade de Lyon.
Goals from Gareth McAuley and Niall McGinn gave Northern Ireland a 2-0 victory against Ukraine in their UEFA Euro2016 Group C and O'Neill described the emotion of the victory but was quick to deflect the attention onto the team. 
He said: "It's a hugely proud day for me, for, I think the country as well. It's our first win I think at the European Championships finals, well it's our first time, so it must be our first win.
"But the level of the performance is what I'm most proud of, the players really reacted to the defeat in the first game, and the disappointment of the first game, and I thought that today every one of them were magnificent."
O'Neill made five changes to the side that lost their opening game against Poland and it wasn't an easy decision for the boss to make, he said: "I had to look at… as I say, I haven't watched that much football in the tournament other than our own games.
"I've watched the game back against Poland from every camera angle that UEFA give you, which is hugely beneficial, to be honest. And I just felt that we needed to get more running power in our team.
"The shape of our team was very good against Poland, but we couldn't get up the pitch, so we needed to get players that would give us that outlet, and the players that came in certainly did that, and as I say, it was a high-intensity performance, we pressed the ball very well and we played some great football as well."