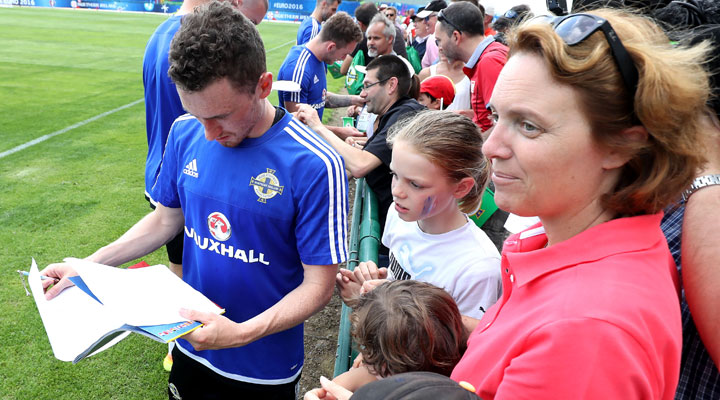 Corry Evans was delighted with the support given to the Northern Ireland squad as they trained today.
Around 500 local people attended an open public training session at the team's Euro 2016 training centre at Parc de Montchervet in Saint-Georges-de-Reneins, north of Lyon.
Irish FA staff handed out 200 goody bags to children from the Saint-Georges area, while flags featuring the Association's crest and keyrings were given to adults in attendance.
"It was nice to see the locals supporting us and waving the flags. It's really nice to have their support," said Corry.
He also said it was great to see businesses in Saint-Georges-de-Reneins displaying banners welcoming the team to the Rhone departement.
Today's 90-minute session was staged in thundery, humid conditions with the threat of a downpour never far away.
The midfielder said it was difficult to train in the heat but the players are beginning to acclimatise to the warm weather in France.
He further revealed the mood in the camp is good. He said: "Everything has been quite relaxed so far and we are all really looking forward to the first game (against Poland in Nice this Sunday).
"After today the training will become more focused and we will be preparing for the game on Sunday."
He also applauded the set-up at the training centre at Parc de Montchervet.
"The training pitch is brilliant and there's a gym beside it, so everything we need is here. It's all very handy. The people behind the scenes have done a great job in setting it up," he pointed out.
Corry is also loving the team hotel. "It's just great and there are some superb personal touches, such as pictures of our families in our rooms and other little things. And we appreciate that people have gone to great lengths to make us feel at home," he said.