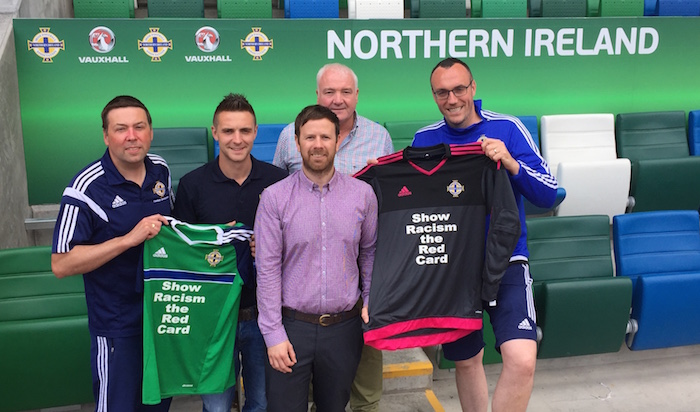 The Northern Ireland Fans Team received a brand new kit from the Irish FA today at the national stadium at Windsor Park before they leave for France tomorrow. The Fans team have a series of friendly games lined up for their Euro France adventure.
Irish FA Director of Football Development, Michael Boyd, praised the Fans, "The NI Fans Team do some amazing charity work and they have given their full support to our partnership with Show Racism The Red Card. The Irish FA have committed to deliver 100 free Show Racism The Red Card workshops across the country in 2016 and the Fans are getting involved. When they return from France members of the Fans team will be trained up to deliver these workshops in the community".
Northern Ireland international manager Michael O'Neill took time out from his busy schedule to wish them luck, "Our relationship with the Fans has never been closer and I wish the Fans team good luck for the friendly games they have lined up".
Ged Grebby, CEO of Show Racism The Red Card in the UK thanked the Fans for their support, "The Euros is a great opportunity to celebrate diversity and I would like to thank the NI Fans Team for their support backing Show Racism The Red Card in France".
To book a free Show Racism The Red Card workshop contact Claire.Adams@irishfa.com