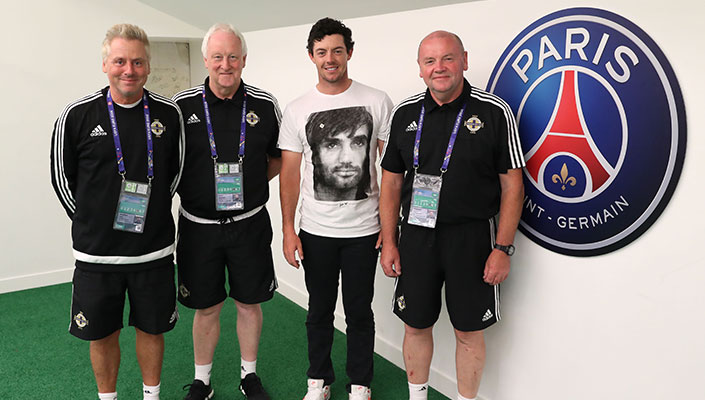 Michael O'Neill and his players rightly received plenty of plaudits for reaching the European Championship Finals. But they would all agree the backroom staff also played a key role in helping Northern Ireland qualify for their first major tournament in 30 years – and they are doing so again in France during Euro 2016.
Among the unsung heroes who make up the team behind the team are the kitmen Raymond, Colin and Stevie…
RAYMOND MILLAR
This is Raymond's 10th year working with the association. He started out as the kitman with the under-21s and was then appointed to the U19s.
He has also worked with the U17s, various women's international teams and the Northern Ireland Regions Cup team.
In November 2011 Raymond was appointed full-time kit manager to the senior team under Michael O'Neill. 
COLIN McGIFFERT
A kit manager with the association for 13 years, Colin has worked at 160 internationals to date with Northern Ireland teams: 85 with the senior women's and U19s between 2003 and 2012 and 75 with the senior men, U21s, U19s and U17s since 2010.
Previous employers include Queen's Park Rangers and Fulham, where he was area manager in the commercial department.
As a player he made his debut for Killyleagh YC at 15. He played there for three seasons in a team captained by David Healy's dad, Clifford.
Colin spent 22 years in England and has lived in Spain for the past 12 years. He played for London club Harrow Borough in the Ryman Premier League.
STEPHEN FERGUSON
Stevie has worked as a kitman for the Irish Football Association for 21 years. He began his career with the association in 1995 working with Roy Millar and the under-16, under-18 and U21 squads. He then worked with Chris Nicholl with the U21 squad and the Northern Ireland Milk Cup teams.
Stevie has subsequently operated as a kit man at senior squad level with three different managers, Lawrie Sanchez, Nigel Worthington and now Michael O'Neill. Over the years he has also worked for several Irish League teams.