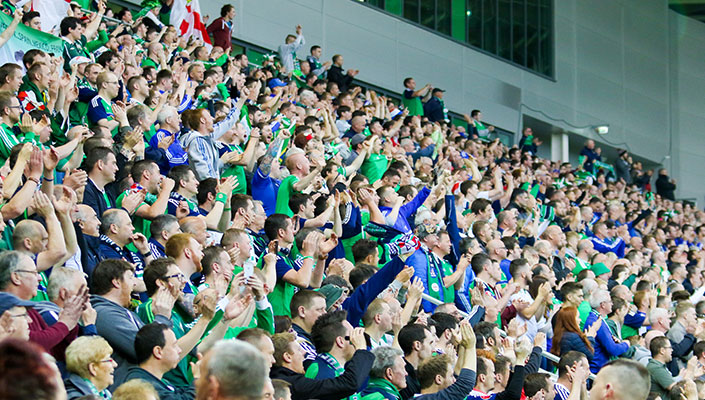 Northern Ireland fan Craig Hannan, like thousands of other supporters, is heading to France this week to cheer the team on at Euro 2016. Here he shares his thoughts as the players prepare for their first game in the tournament…
This wasn't meant to happen, it certainly wasn't coming. Qualification for Northern Ireland had nothing to do with stats, form or history for a country that has had no option but to live with the acceptance of an underwhelming national team for nearly three decades.
It's quite difficult to articulate how it feels for a country this small, this complicated. What does it mean to be at the European Championship Finals when the odds tell us we have no chance in France? 
It means everything. We're here.
Football serves up moments that will forever linger in the memory with the unexpected often the most unforgettable. These are replayed and relived with footage and photographs that trigger and evoke the same feelings that were experienced at that time.
Three generations of Northern Ireland fans have grown up without stories of their own, settling for tales told by older relatives of the halcyon days of Danny Blanchflower and the great George Best in green.
Those lucky to remember Gerry Armstrong's goal have watched and reminisced over Billy Bingham's side sinking Spain in their back yard at the '82 World Cup. 
But these memories don't belong to my generation; they simply don't resonate with us in the same way.
The European Championship Finals is an opportunity to ensure our recent footballing history is not solely signified by a goal that beat England in a qualifier in 2005. Football has been endured rather than enjoyed for far too long now in Northern Ireland.
You see, it's not just that we've qualified, it's where we've come from to do so. 
It's an era that at times had threatened to become our nation's most embarrassing, stuck second bottom in each of the previous two qualifying campaigns. With Azerbaijan above us and only Luxembourg below in Michael O'Neill's first in charge, it was impotent and uninspiring.
Lack of consistency in squad selection and a poor disciplinary record were problems O'Neill had to address and the reinvigoration process started with a maverick striker who lacked focus and direction.
Brought on as a sub against Portugal in 2013 only to be sent off minutes later, Lafferty was at a crossroads.
Two years on and only five players scored more in qualifying, an illustrious list including Lewandowski, Ibrahimovic, Muller and Dzeko. His transformation as a talismanic target man could be O'Neill's greatest feat as he continues to craft and mould the striker's attitude - allowing him to unlock his potential. 
Michael O'Neill has forged a bond with this small pool of players, instilling a cohesion and feeling of genuine togetherness that ensures the team as a whole is greater than the sum of its parts. 
Off the pitch, there's a febrile positivity surrounding the Northern Ireland national team like I've not known before.
Leaving the Troubles firmly in the past, we're now bridging the divide with a squad representative of all sides of the community and a national stadium welcoming of everyone. 
This month we're in the news for all the right reasons.
Doubters will have already written us off but while they do we'll descend on Nice en masse as the side with the longest unbeaten run of any country competing at the tournament.
Detractors might predict doom and gloom against Lewandowski and co but we'll point to Leicester as our inspiration as the underdog.
 Those reading will remind me that a defender from Fleetwood Town could be tasked with marking Mesut Ozil but when expectancy is low the unpredictability of football can surface.
Games like Germany provide Lafferty, Davis et al with an opportunity to create their own moments to replay and reminisce over. A new Spain '82 for a long suffering generation.
But whatever happens, Michael O'Neill has overseen a revival, orchestrating a shift in mentality both on and off the pitch and restoring hope and pride in our own national team.
Songs by the Riviera and a sea of green and white by the Seine - this has been 30 years in the making.

Nice, Lyon and Paris. Breathe it in, it might not happen again. Northern Ireland at the European Championship Finals.