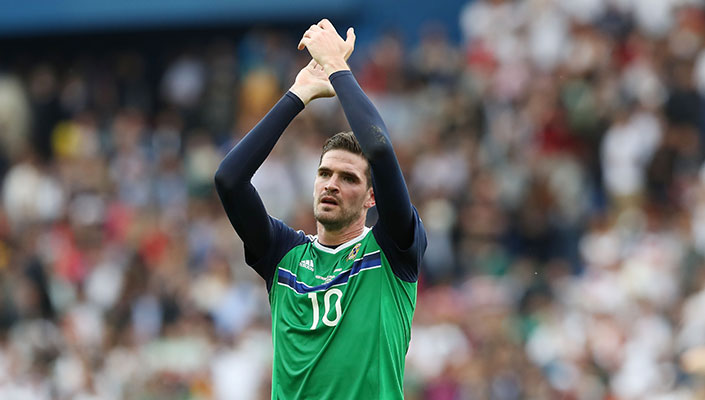 Northern Ireland striker Kyle Lafferty believes his team-mates have the "heart and determination" to beat anyone at UEFA Euro2016. 
Northern Ireland will next face Wales in the round of 16 at the Parc des Princes in Paris on Saturday and when asked about their upcoming opponents, Lafferty said: "Obviously we played Wales three or four months ago so we know all about their players.
"It's going to be a tough game, they have some world class players but with our heart and determination we honestly believe we can go on and beat anyone."
And when asked how far that can take them in the tournament, the striker was confident of their chances: "With the squad of players we have, I'm sitting here believing we can go the whole way.
"It might take some luck along the way but every team in the world is due their luck at sometime and I believe if we get a little bit of luck we'll upset a few teams."
And with Saturday's game likely to be a tight affair, Lafferty believes the spirit in the squad will be a key factor in Paris: "The way the whole squad fights for one another, going the extra mile in games, it's going to go a long way come the 90th minute. 
"It'll be interesting to see who wants it the most on Saturday. The way we have played in recent games will make it interesting and I believe we will come out on top."