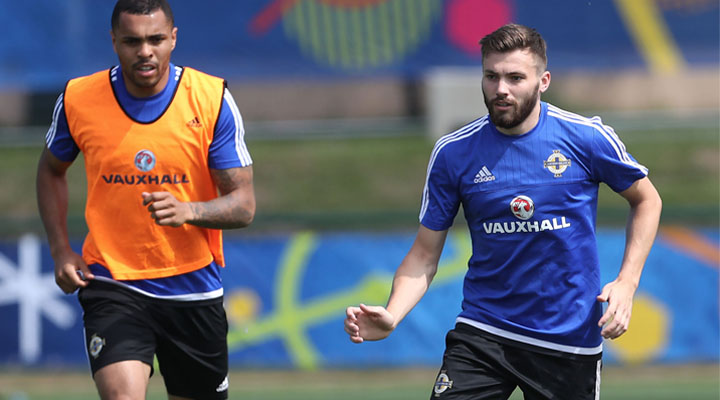 Everyone is raring to go in the squad as the countdown to Northern Ireland's first game at Euro 2016 begins, according to Stuart Dallas.
The midfielder is back with his international team-mates after taking time out to get married last week.
"I had a great few days at home, but it's good to get into the swing of things again. Everyone is raring to go," said Stuart, who flew in to Slovakia yesterday morning to hook up with the rest of the squad prior to them jetting into Lyon for the European Championship Finals.
He admits life has been a tad hectic in recent weeks. The midfielder took part in training camps in Manchester, Co Kildare and Austria before heading home to Co Tyrone last Wednesday evening to prepare for his marriage to Juneve, who he has known since his childhood and started going out with during his early playing days with Coagh United.
The wedding was held last Friday in his home town of Cookstown, while the reception took place at Castle Leslie in Co Monaghan.
"We had a great day with family and friends. It was brilliant, just perfect," he revealed.
However, after the couple spent their first full day of married life in Cookstown with their daughter, family and friends, it was time for Stuart to get back to porridge on Sunday.
The midfielder, who missed the 0-0 draw against Slovakia due to his nuptials, was keen to travel to France with his team-mates so he flew in to Bratislava yesterday morning from Dublin before joining up with the rest of the squad for their flight to Lyon yesterday afternoon.
Stuart has noticed the buzz of excitement around the squad growing steadily since the first training camp in Manchester last month.
"Manchester went well. It was tough going but we needed it after having a few days off before that. Carton House (Co Kildare) was really good as well and there was a real buzz about the place, and I think that showed in our performance against Belarus," he said.
"Austria was also really good and everyone was really switched on," he further revealed.
But arguably the real work is now beginning. The team have already been doing some homework on the Poles, whom they face in Nice this Sunday in their opening group game, but training this week will, naturally, have a greater focus on the weekend opposition.
It has also now sunk in that Euro 2016 is just around the corner.
"With the welcome we had at the airport, and all the security, we knew we had arrived at a major tournament," he explained.
And Stuart is loving his surroundings in France.
He said: "The set-up is great. Everything has been put on for us. You can tell a lot of work has gone into it. It feels really homely and the facilities are brilliant in the hotel. The food is also top class. I am really impressed with it. And the training pitch is brilliant."