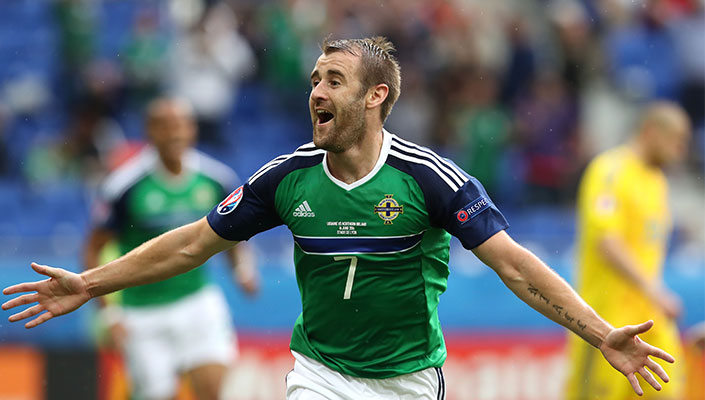 Northern Ireland midfielder Niall McGinn has shared his feelings after scoring in the seventh minute of injury time to seal a 2-0 win against Ukraine in their UEFA Euro2016 Group C encounter.
McGinn came on as a substitute and told of the incredible atmosphere from the bench, let alone to get on the pitch and then score at the Stade de Lyon.
He said: "It was an unbelievable night to be a part of. Even sitting on the bench watching the game, the atmosphere was unreal but to get on the pitch myself I was over the moon but I wouldn't have dreamt of coming on to score."
In a moment where many would have gone for the corner, fellow substitute Josh Magennis was brave and turned towards goal. It was a decision that ultimately gave McGinn his dream moment.
And the midfielder praised Magennis for his role in creating that piece of history, he said: "He just done unbelievable, when he got the ball a few guys were shouting take it to the corner, but I was probably the only one wanting him to cross the ball."
And McGinn finished by thanking the fans for their support to round off an incredible moment for himself and Northern Ireland by saying: "Obviously I have just come on as a sub and scored at a major tournament in front of thousands and then millions watching around the world but in front of magnificent support that we brought to the Ukraine game.
"And as soon as I scored that was me off running, no one was stopping me then."