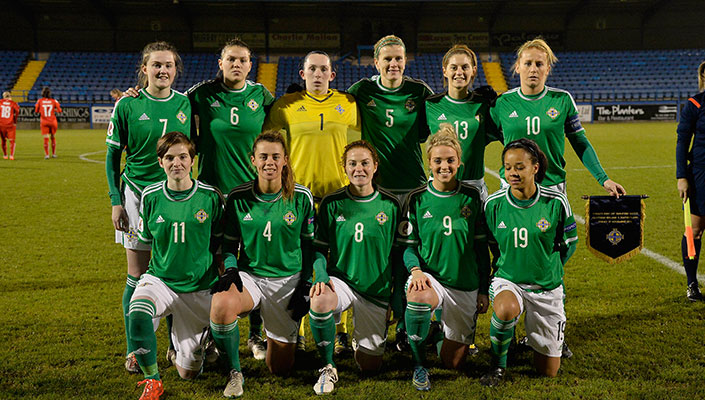 The Northern Ireland senior women's international team are taking on Georgia tomorrow evening (3rd June).
The game at Solitude in Belfast (19.30 kick-off) is Northern Ireland's fourth game in their UEFA Women's Euro 2017 qualifying campaign.
They defeated Georgia away in their opening fixture back in October. Team captain Julie Nelson scored the opener before a brace from Avilla Bergin secured a 3-0 win in Tbilisi.
After suffering a heavy defeat at home against Switzerland last November - they lost 8-1 to the classy Swiss, with Rachel Furness notching the only goal for the hosts - they were unlucky to leave Italy without at least a point in their third qualifier in April.
The team produced a gritty performance in the first half and again at the start of the second half against the Italians. They then took the lead through a Simone Magill strike on 62 minutes, but the hosts piled on the pressure and scored three late goals to seal a rather flattering 3-1 victory.
Georgia currently sit bottom of Group 6 and Northern Ireland manager Alfie Wylie sees tomorrow evening's game as an opportunity for his side to add to their points tally. He said: "We played really well against the Georgians away from home and I am hoping for a similar performance at Solitude. We are very much looking forward to the game. We have trained well this week and there's a good buzz in the camp.
"We have a great mixture of experience and youth in the squad for this game. I believe it's one of the strongest squads we have had to date in the qualifying campaign."
The squad for the game at Solitude - and for the team's next game away to Czech Republic on Tuesday (7th June) - is as follows: