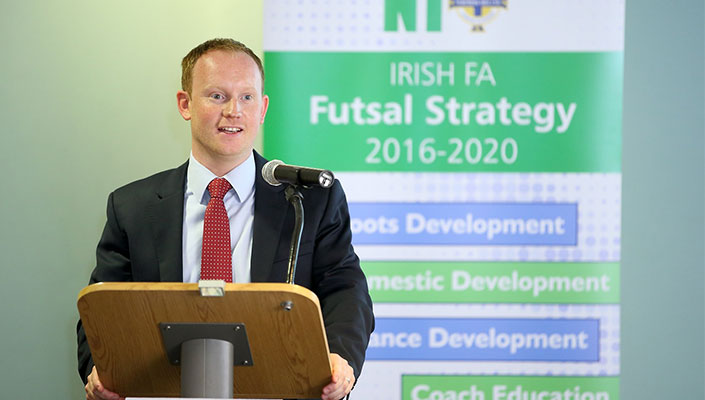 The Irish Football Association has launched its first ever Futsal Strategy 'Game Changer'. 
The Strategy is designed to enhance and assist the current objectives within the current Irish FA Youth strategy 'Let Them Play'.   Within the new Futsal strategy, the following areas have been identified as key to fulfilling the strategies objectives. They are Grassroots, Domestic, Performance, Coach and Referee development.
Through the initiative the Irish FA have outlined specific objectives for both boys and girls in an attempt to increase participation and knowledge of Futsal across Northern Ireland. One of the objectives is to have over 2,000 school children, boys and girls, in Primary and Post Primary Schools participating on a regular basis.
For those who are new to the game, Futsal is FIFA's only official 5-a-side game. In countries like Brazil, Spain and Portugal the game is professional and has been endorsed by Neymar Jr, Cristiano Ronaldo and Lionel Messi as an instrumental element of their development.
Irish FA Chief Executive Patrick Nelson said "Futsal is a game which the Irish FA have researched and identified as an exciting new tool to increase participation, develop elite players alongside the development of coaches and referees through exciting new pathways.  Futsal has proven to be of pivotal importance in the development of global football stars.  
"Therefore as an Association with aspirations to enhance our young players we feel Futsal can provide the platform necessary to do so.  I would like to thank you for attending the launch of the strategy and at this time we hope with your investment and involvement you can assist in the delivery of Futsal throughout Northern Ireland."
Irish FA President David Martin said "The Irish FA is fully committed to promoting Futsal. It's very encouraging to see such a strong representation here today from key stakeholders who all will play a vital role insuring the strategy is a success and meets its objectives.  
"Although Futsal is a more recent game, already the Football Development team have delivered numerous Futsal taster events and interest in the game is growing rapidly.  I would like to take this opportunity to thank everyone for attending and supporting the Irish FA with the introduction of this exciting new strategy."
For further information about Futsal please visit www.irishfa.com/futsal or alternatively contact futsal@irishfa.com.